Medical Technology Deals a Question of When, Not If, Citi Says
(Bloomberg) -- The pace of mergers and acquisitions has plunged during the pandemic but the return of takeovers for companies in the medical technology sector is a given, according to one Citi analyst.
"As the immediacy of the crises seems to be easing, investor conversations have begun to turn to consolidation," analyst Joanne Weunsch said.
"M&A is always a matter of when the time is 'right' for both parties," she wrote in a note to clients. Deals are likely to come from "the usual suspects with balance sheet flexibility," her list of potential buyers includes large devicemakers like Abbott Laboratories, Baxter International Inc., Medtronic Plc and Johnson & Johnson.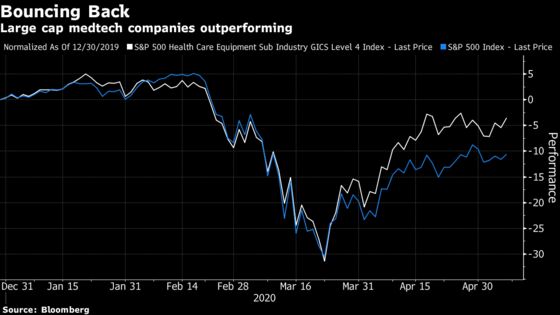 Smaller medical technology companies are more likely to have taken a hit from halts placed on elective procedures during state lockdowns. JPMorgan analysts pointed to more pain to come for the sector last month but also said that industry pressures could lead to more consolidation, similar to what was seen in the last recession.
Balance sheets for the large devicemakers are "healthy and much better positioned to weather the storm than most small caps," the analysts said. The pandemic may strip smaller medtech companies of some of their negotiating leverage as larger peers kick the tires on deals.
Indeed some companies have already been flagging potential opportunities to pickup smaller firms. Lower valuations "could present some opportunities" as the U.S. comes out of the financial crisis, Joseph Wolk, J&J's chief financial officer told Bloomberg News in April.