McConnell Defends Lawsuit to Undo Pre-Existing Condition Protection
(Bloomberg) -- Senate Majority Leader Mitch McConnell defended a lawsuit to undo the Affordable Care Act's protection of insurance for pre-existing health conditions even though it's become a problem for Republican candidates in the campaign for control of Congress.
"Our candidates are able to deal with it," McConnell said regarding a barrage of Democratic ads criticizing his party's candidates on the issue. "There's nobody in the Senate that I'm familiar with who is not in favor of coverage of pre-existing conditions."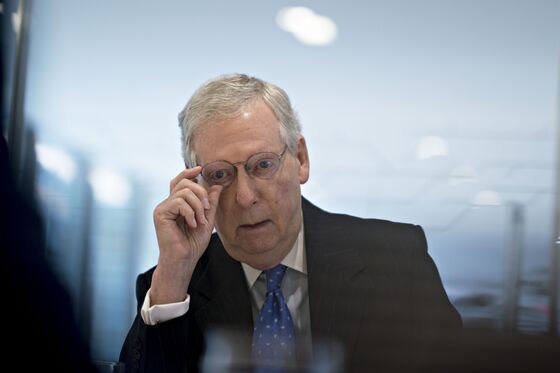 The case, filed by Texas and backed by the Trump administration, contends that because Congress eliminated the tax penalty for violating the requirement that most individuals have insurance, the rest of the law including the consumer protections must be thrown out. Many legal scholars see the lawsuit as a long shot, including some conservatives who supported previous suits against Obamacare.
During an interview Tuesday with Bloomberg News, McConnell said he doesn't think the lawsuit is a mistake.
"It's no secret that we preferred to start over" to repeal and replace Obamacare, he said. That vote failed in 2017. "So no, I don't fault the administration for trying to give us an opportunity to do this differently and to go in a different direction," the majority leader said.
While Republicans sometimes have accused Democrats of turning to courts and executive actions when they were unable to get their way in Congress, McConnell said he didn't see an issue with backing the lawsuit.