Scottish First Minister Seeks New Independence Vote by 2021: Brexit Update
(Bloomberg) -- Cross-party talks aimed at a Brexit compromise have yet to show signs of progress, but David Lidington, the de facto deputy prime minister, signaled the government wants some kind of customs deal with the European Union that both main parties can agree to. The Scottish government is planning another referendum on independence, driven in part by Brexit.
Lidington says goal is to find agreement with Labour Party around a "customs arrangement" with the EU
Scotland's First Minister Nicola Sturgeon sets out plan for another referendum on Scottish independence
Influential 1922 Committee of Conservative MPs demand clear timetable for May's departure
May Urged to Give More Clarity on Departure (5:35 p.m.)
While Theresa May has said she'll quit her post if Parliament passes her Brexit deal, she's now being urged by her party to clarify the timetable for her departure even if she can't persuade lawmakers to back it.
"We have sought clarity on the timetable and the schedule of her departure," Graham Brady, chairman of the influential 1922 Committee of rank-and-file Tory lawmakers, told reporters in London. "She has set that out already in the eventuality of the Withdrawal Agreement being passed. We are seeking similar clarity should that not be the case."
Brady suggested that while it's still in the committee's power to change the rules to make it easier for MPs to usurp May, it's unlikely for now. "We have given this subject a very good airing and a very thorough debate, and we have reached our determination," he said. "So I don't think there will be any mood to revisit these matters in the near future."
Tory lawmakers tried and failed to oust May in December, and under current rules, they're not able to make another attempt until a year has passed.
1922 Committee Rejects Rule Change (5:20 p.m.)
The 1922 committee of rank-and-file Tory lawmakers rejected a plan to change the party's rules to make it easier to oust Theresa May as leader but wants more clarity over the timing of her departure.
Two MPs who attended the meeting of the committee in Parliament said its executive had turned down the plans, which would have overridden limits on the ability of the party's MPs to repeatedly attempt to remove the prime minister.
Sturgeon Sets Out Plan for Independence Vote (1:50 p.m.)
Scottish First Minister Nicola Sturgeon said she aims for another referendum on independence in the current lifetime of the Scottish Parliament -- which ends in 2021 -- and will put forward legislation.
She pledged to seek consensus and act in the "national interest" after Scotland's wishes on Brexit were ignored.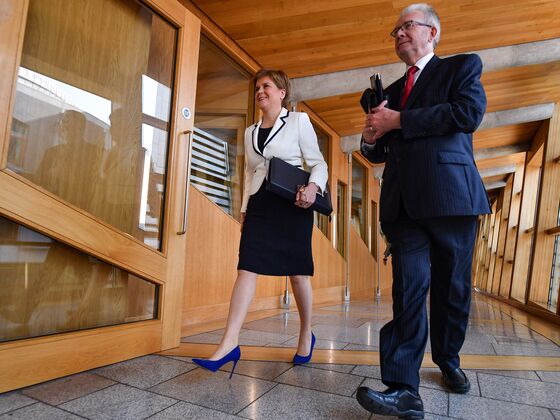 Cross-Party Talks Focus on Finance Today (1:15 p.m.)
Talks between the government and opposition Labour Party aimed at finding a compromise on Brexit will focus on Wednesday on financial services, according to a government spokesman.
On Thursday, a working group will discuss environmental issues, he said.
May Wants Agreement on Customs 'Arrangement' (12:52 p.m.)
The government is aiming for an agreement with the opposition Labour party that would make a "customs arrangement" with the EU part of Britain's future relationship with the bloc, Lidington said.
Theresa May has repeatedly ruled out a full customs union with the EU as that would restrict the U.K.'s ability to do its own trade deals with other countries. But Labour wants a customs union, and May has hinted that there could be a compromise to be found. Lidington said the government wants to maintain the benefits of the customs union.
"I hope it will be possible to bring members from all sides of the house together in support of a customs arrangement as part of a wider approach to our future relationship with the European Union," Lidington told Parliament.
Reminder: the EU side always thought the Brexit deal that May agreed to last year would end up meaning the U.K. stayed in the customs union. The deal isn't definitive about what future ties should look like, as the details of the post-Brexit relationship won't be hashed out until after the U.K. has left. May said earlier this month that the gap between what she wants and what Labour wants has been overstated.
Lidington Says Talks With Labour Difficult (12:25 p.m.)
Lidington said cross-party talks aimed at a Brexit compromise have been constructive, but it's "very difficult."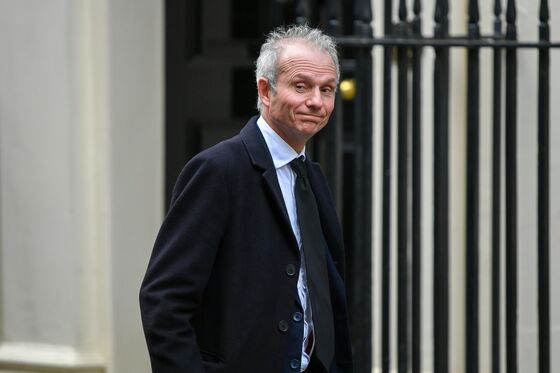 "The substance and the tone of those conversations between the government team and the opposition team have been constructive, I think there is a genuine attempt to find a way through," he told Parliament on Wednesday.
He reiterated the government's opposition to a second referendum, and urged members of Parliament to help deliver Brexit.
"It's up to every member of this house to take our responsibility to the country seriously," he said.
May Travels to Belfast for McKee Funeral (Earlier)
Theresa May will attend the funeral of journalist Lyra McKee in Belfast on Wednesday, her office said in an emailed statement. The so-called new IRA said it accidentally shot the 29-year-old freelance writer in Derry, or Londonderry, during rioting last week.
Other dignitaries attending include Irish Prime Minister Leo Varadkar and Northern Ireland's Democratic Unionist Party leader Arlene Foster.
Cabinet minister David Lidington will deputize for May at Prime Minister's Questions in Parliament, her office said.