London Luxury Homes Face New Hit as U.K. Plans Foreign Buyer Tax
(Bloomberg) -- Britain's high-end and luxury homebuilders face a squeeze as Prime Minister Theresa May prepares to impose higher taxes on foreigners looking to buy properties in the U.K.
Overseas buyers account for roughly half of all residential transactions in central London, according to Faisal Durrani, head of research at property consultants Cluttons LLP. Berkeley Group Holdings Plc, the homebuilder with the most exposure to the U.K. capital, fell the most among its peers in London trading on Monday.
U.K. developers are already grappling with sluggish demand amid the nation's messy divorce from Europe, a cooling property market and prospects of higher interest rates. The capital's stock of unsold homes under construction is at a record, and shares of homebuilders such as Crest Nicholson Holdings Plc and Berkeley have slumped this year.
"Further taxes on international buyers sends out a conflicting message about post-Brexit Britain being 'open' to the world," Durrani said. "We will have to revisit our residential forecasts with a view to making further downward revisions, should the international residential surcharge be confirmed."
Unveiling its policy plans as the Conservative Party conference began on Sunday, the government said it will begin consultations to increase the stamp duty on individuals and companies not paying tax in the U.K. Ministers are considering a rate ranging from 1 percent to 3 percent, according to the Sunday Telegraph newspaper.
"We are going to consult on the figure but around 1 percent, we are going to consult to see if that's the right figure," Brandon Lewis, Conservative Party chairman, said Sunday on Sky News.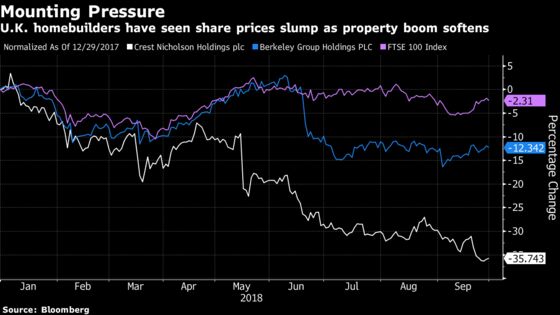 The move is likely to add to pressure on the country's property market. Bank of England Governor Mark Carney told senior government ministers last month that a no-deal Brexit could see house prices plummet by more than 35 percent, according to people with knowledge of the matter.
The U.K.'s imminent departure from the world's biggest trading bloc is already weighing on property values in London, where house prices posted their biggest decline in almost a decade in July. The average residential property in the capital cost 485,000 pounds ($632,004), according to the Office for National Statistics. Nationally, growth slowed to the weakest pace since August 2013.
In a sign that London would likely bear the brunt of the tax, British homebuilders focused outside the capital had declines that were much smaller than Berkeley's 3.3 percent fall. The Bloomberg U.K. HomeBuilder Index was down 1.5 percent as of 8:49 a.m. It has dropped 15 percent this year.
"It's only really Berkeley Group and Telford Homes that are affected by this, foreign investors for example represent 50 percent of Berkeley's clients," said Sam Cullen, an analyst at Berenberg in London. "The proposal underpins the government's commitment to increasing home ownership which makes us think that help to buy will be extended and will be a net positive for the sector."
"We are very concerned about the impact that foreign buyers have on the housing market and the impact they have on people who are living here and trying to get into the housing market," May said on the BBC's "The Andrew Marr Show" on Sunday. "The evidence is that foreign buyers coming in pushes house prices up and lowers home ownership here."
May is facing pressure over her leadership, and the Tory conference comes after the opposition Labour Party announced a series of policies to try to rejuvenate struggling parts of the country, including a house-building program. The government said the stamp duty increase would make homes more affordable for British residents and that money raised would be used to help the homeless.
"This policy, with its uncomfortable echoes of blaming foreigners for every ill, may make good headlines, but it sends an uncomfortable message to the rest of the world and will do nothing to create more homes for those unable to buy or to rent today," said Henry Pryor, a U.K.-based luxury real estate broker.