May Has a Brexit Deal. Now for the Hard Part
More than two years after the U.K. voted to leave the European Union, there's finally a divorce deal on the table. Yet for Theresa May, the most dangerous days still lie ahead.
The British prime minister convenes her Cabinet today knowing she must convince them of the deal's merits or risk resignations that could make her position untenable. And that's only the first step – she then faces near impossible odds to get the agreement through a hostile parliament.
Her fundamental problem is the draft deal gives neither side of the Brexit debate exactly what it wants. Brexiteers are angry the agreement looks set to keep the U.K. in the EU's customs and trade orbit indefinitely, unless a better idea turns up in the next two years. Remainers welcome continued close ties to the bloc but lament the loss of influence on its rules.
May will be hoping minds will be focused by the dire consequences of failure. Unless she can get cabinet and parliament onside, the U.K. will be put on course to crash out of the EU in March into legal limbo. Avoiding it would still involve significant political turmoil, or even a second referendum.
But the immediate threat is the meeting in No. 10 Downing Street at 2 p.m. That will set the tone for the weeks and months to come.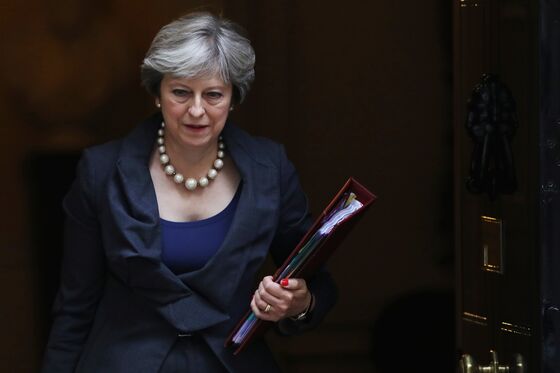 Merkel defiant | German Chancellor Angela Merkel championed a more assertive Europe in her call for a "genuine European army" in a speech to the European Parliament. The plea came as U.S. President Donald Trump stirred old divisions between EU allies in a series of tweets. Received with applause in the chamber in Strasbourg, Merkel's speech attracted criticism from euroskeptic lawmakers.
Pence's Asia gambit| U.S. Vice President Mike Pence used the carrot and stick approach at the Asean summit in Singapore. While he told Myanmar's Aung San Suu Kyi that violence against the country's Rohingya Muslims was "without excuse," he praised India's Narendra Modi for supporting a "free and open Indo-Pacific" – the latest effort to court the world's most populous democracy as a regional counterweight to China.
Not going away | Senator Lindsey Graham said he was skeptical of National Security Adviser John Bolton's comments on Monday that people who've heard an audio recording of Jamal Khashoggi's murder don't believe it implicates Saudi Arabia's Mohammed bin Salman. He called the crown prince "unstable and unreliable" and said he and other senators were discussing sanctions against the kingdom.
Opposition stumbles | Just a day after seven opposition leaders in the Democratic Republic of Congo backed a single presidential candidate in next month's election, two of the most influential politicians pulled out of the deal. That will likely ensure victory for President Joseph Kabila's hand-picked candidate and risk sparking instability in the world's biggest cobalt producer.
Who's the PM? | In the latest twist to Sri Lanka's political crisis, a majority of parliamentarians have told the speaker they have no confidence in President Mathripala Sirisena and Prime Minister Mahinda Rajapaksa. The president ousted leader Ranil Wickremesinghe in late October and replaced him with Rajapaksa, the nation's former strongman. But as Anusha Ondaatjie and Iain Marlow report, the move doesn't seem likely to end weeks of turmoil that have hit the currency and spooked investors.

What to Watch
Democrats and Republicans decide today who'll hold key leadership roles in the House and Senate when the new Congress convenes next year. Nancy Pelosi is favored to be named the next House Speaker, but one fellow Democrat is warning that enough party members are ready to block her bid to lead the chamber.

First lady Melania Trump is demanding ouster of Bolton's top deputy as reports swirl about an imminent shakeup of Trump's administration that may include removing Homeland Security Secretary Kirstjen Nielsen.

House Republican leaders must decide how much to embrace Trump going into the 2020 election - a dilemma that will fall most heavily to Representative Liz Cheney as she joins the party's upper echelon.
And finally... The Republic of Macedonia's former prime minister, Nikola Gruevski, fled to Hungary to seek political asylum to avoid a two-year jail term for abuse of office. That leaves Hungarian Prime Minister Viktor Orban in a tight spot – he can grant asylum and further erode his image among Europe's mainstream political elite. Or he can reject it and abandon his former ally while also risking Russian President Vladimir Putin's anger.