May Gets Cudgel Against Rebels in Brexit Twist
Just when you thought Brexit couldn't get any murkier, another twist to the U.K.'s drawn-out divorce from the European Union may open the door to halting it entirely.
In a move that could give Prime Minister Theresa May a weapon against hardliners in her party, an adviser to the European Court of Justice said the country can scrap Brexit unilaterally by revoking Article 50, the provision setting the two-year withdrawal clock that expires in March. The pound surged on the news.
The ruling – while non-binding – adds to the feeling any outcome remains possible only four months before Britain is due to depart the EU.
Opposition to May's deal is formidable, highlighted by the fact that the government now faces being held in contempt of Parliament for refusing to release legal advice about the terms of its agreement with Brussels.
Those threatening to shoot down her hard-fought pact are toying with the idea that no deal is better than what she's offered. Now, her lieutenants can argue more forcefully that the explosive alternative is no Brexit at all.
At the very least, by putting the possibility of halting Brexit entirely firmly on the table, the European Court has put a serious wind in the sails of Remainers and those campaigning for a second referendum.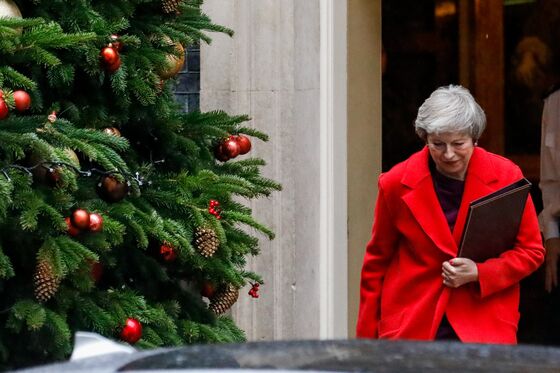 Deal or no deal | Trump left his top advisers scrambling yesterday to explain a trade deal he claimed via Twitter that he'd struck with China to reduce tariffs on U.S. car exports – an agreement that doesn't exist on paper and hasn't been confirmed in Beijing. Questioned about the pact, Treasury Secretary Steven Mnuchin and Trump's top economic adviser, Larry Kudlow, dialed back expectations and added qualifiers.
Reversing course | French President Emmanuel Macron looks set to suspend a planned fuel-tax hike that's sent as many as 300,000 protesters into the streets in sometimes violent clashes. An announcement is expected today, Agence France-Presse reported. It comes as Macron's popularity hit a new low and demonstrations threaten to spread.
Exit Merkel | After announcing her departure as party leader in October, Angela Merkel said she wants to stay on as German chancellor through 2021. But she'll have to dodge a number of obstacles and it's far from sure she'll survive another three years. Patrick Donahue has drawn up four scenarios for how the final act of Merkel's political life might play out, in the lead up to a vote on a new Christian Democrat Union leader on Friday.
On the rebound | Argentine President Mauricio Macri says South America's second-biggest economy is on the way to a strong rebound next year after surmounting a full-blown financial crisis in 2018, he told Bloomberg TV in an exclusive interview. Still, the economic downturn has clouded his path to re-election, with the government's approval rating hovering at its lowest level since he took office in 2015 and consumer confidence at a 16-year low.
Cracks in the cartel | Qatar shocked the world yesterday by announcing it will quit the OPEC cartel after nearly 60 years. But attention soon turned to the oil relationship that really matters: between Riyadh and Moscow. Russian and Saudi officials were already meeting this week to hammer out a bilateral deal to extend the so-called OPEC+ agreement – a move that's expected make other small producers feel even further marginalized.
Congress plans to postpone a spending bill debate by two weeks – until Dec. 21 – to allow for memorial services honoring the late President George H.W. Bush, who is lying in state at the U.S. Capitol. Trump paid his respects last night.
Secretary of State Michael Pompeo plans to use today's gathering of NATO leaders to ramp up pressure on Russia over what the U.S. has long said is Moscow's failure to comply with a 1987 treaty on nuclear weapons.
And finally ... How exactly do you tackle the world's worst air pollution? In India's smoggy capital, New Delhi, transport officials are taking it one scooter at a time, pulling over vehicles emitting visible exhaust. Outside the city, advocates are trying to stop farmers from burning their crops. It's all part of a broader effort to clean up a country that's home to 10 of the cities with the most toxic air on the planet.