May Day May Not Be a Signal of Distress for Rally: Taking Stock
(Bloomberg) -- May Day for stocks. Not to be confused with the emergency distress signal, but the holiday celebrated by many parts of the world today, which is sure to obfuscate true trading activity and volumes.
And what a day for this to occur. Just Apple earnings to digest (shares are up nearly 6% in the early going), an FOMC decision, ADP employment figures and monthly auto sales. On second thought it may be cause for alarm. I would warn against thin volumes, but with this many catalysts that may not be the main concern.
It will instead be keeping abreast of the developments which will come fast and furious -- the antithesis of Tuesday's slow-churning digestion of mega-cap developments. The S&P's record close fails to tell the whole story, as the main drag upon the benchmark, accounting for nearly 7 index points for much of the day, was the Google parent. And for an index ending higher, there were a remarkable number of defensive names leading that charge -- which I suppose shouldn't be much of a surprise as they've borne the brunt of rotation in the past few weeks. BofAML analysts wrote earlier this week that their clients (of most varieties) were net sellers in U.S. equities last week, citing utilities with "near-record outflows," while health care ETF outflows set records.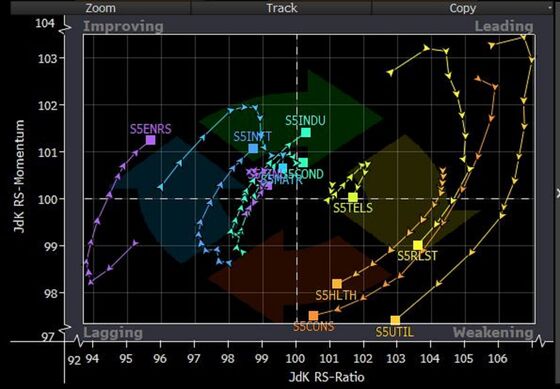 Financials can be looped in as a key laggard again, despite the yield spreads widening in the 2 year/10 year, now at its widest since November. It's fair to say they'll be in the cross-hairs again today should the FOMC make waves in any way given their sensitivity to rates. Top performers in the KBW Bank index this year include Citi, SVB Financial and Suntrust, while some the weakest names thus far include Wells Fargo, Bank of New York Mellon and State Street. Should we get a sentiment shift, I would expect some sort of reversion to the mean in some of those names.
One would expect utilities to see volatility as well, as Southern Co., American Water Works and AES Corp. round out the top performers, while Evergy, NRG Energy and Duke Energy have lagged in 2019.
The rates equation is just one aspect to watch in the FOMC decision. History under Powell has shown that in just 1 of his 9 meetings, the SPX has ended the day higher, according to data compiled by my colleague Lu Wang. Maybe "President T" caught wind of this statistic as the impetus for his fresh attacks on the Fed Chairman Tuesday. Trump called for a 1% interest rate cut Tuesday, so that "we have the potential to go for up like a rocket." Regardless of the one-day moves, no one is arguing that a big part of the reason the market has shifted toward the highs is from the FOMC's policy of lower rates over the past decade, combined with the recent dovish pivot.
It was that pivot (in December) and tilt (in March -- how many ways can we describe shift?) that prompted the gains, and was a big part of why one of Wall Street's biggest bears, Wells Fargo strategist Chris Harvey, amended his forecasts yesterday, moving from the second lowest forecast to the second highest. His estimates remained unchanged, which is a sign that earnings themselves aren't responsible, but instead valuations and the multiple applied given the underlying rate environment. Any additional dovishness could lead the S&P 500 to re-rate even higher.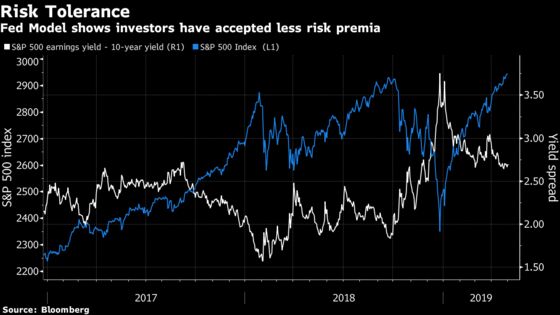 As flagged in Tuesday's Taking Stock, the SPX sits near the median of strategists' forecasts, implying a fair amount of upside is left. And from a valuation standpoint, the Fed model also indicates a potential to move higher, given that investors were willing to stomach less risk premia in the not too distant past.
The exercise in futility in being bearish on this market may get worse after Apple's results last night. Market watchers and tech analysts alike were shocked by the result, after a drumbeat of warnings from chipmakers, suppliers and competitors. Wedbush wrote that results amounted to a "sigh of relief" for investors. Revenue, iPhone sales beat estimates, and the forecast was rosier than many expected -- it doesn't hurt that a new buyback program and a boost to the dividend was added for good measure. The tech juggernaut appears poised to hit the $1 trillion in market value shortly.
The iPhone maker's comments on China also reassured, HSBC's Erwan Rambourg wrote, allaying some concerns over the trade and growth-related issues in the world's most populous nation. So when looking at chipmaker AMD, which counts nearly 70% of its revenue from the Asia-Pacific region, according to data compiled by Bloomberg, it should not come as much a surprise that the firm exceeded estimates. Qualcomm reports later today, which should provide additional color on whether semis are in a tough spot, as recent SIA data showed, or whether fundamentals are bottoming for some, like ON Semi.
Weight management names after volatile Nu Skin Enterprises rose nearly 10% after results and forecasts. DA Davidson analyst Linda Bolton Weiser had called the stock "inexpensive" into the results, citing its 15% decline since the news about a death of a sales person following the usage of its product
Chipmakers as AMD beat; Rosenblatt said ahead of results that the "residual crypto" inventories should offset other strengths; gaming chipmaker peer Nvidia doesn't report for more than two weeks but is indicated to open higher this morning
Auto names as April monthly auto sales unfold today (FCAU, GM, F, HMC, NSANY; together with their respectively suppliers)
Home gadgets and security firms after Arlo Technologies surged following results (watch GPRO, FIT, SONO, HEAR, NTGR, ROKU, GRMN)
Recent IPOs (LYFT, ZM, PINS, SILK, SWAV) as Uber's IPO is said to be oversubscribed, lending credence to the idea that investors' thirst for unicorns has yet be quenched
Smaller cyber security names after FEYE disappointed (names to watch include FTNT, CYBR, CBLK)
Beauty firms (COTY, AVP, REV, ULTA, ELF) as Estee Lauder raised its forecast with results
Apple suppliers and peers (SWKS, AVGO, CRUS, QRVO, OLED, MXIM, NXPI)
Offshore drillers and servicers after Transocean's "puzzling" reaction Tuesday, falling 10%. Peer Ensco Rowan reports some time the bell and before its call tomorrow morning; watch Diamond Offshore
NXP Semiconductors analysts continued to rave about the company's recent results and outlook, which they noted came in contrast to an industry that has otherwise shown signs of ongoing demand and pricing pressure. BofAML added the company to its US1 list and boosted its price target by $20 to $125, calling its growth prospects "among the best in diversified semis." The firm wrote that while the prospects of a recovery in China "remains uncertain, we believe NXPI has several self-help levers that can expand [gross margins] by 200-300bp and EBIT by 400-500bp over the next few years."
Separately, Morgan Stanley raised its own target on NXP to $99 from $92, writing that "not only were NXP's results good, but importantly expectations were lower than some peers." The firm kept its equal weight rating, saying that after missing a strong rally, "we don't want to chase it here given headwinds we still see to semis." Finally, Goldman Sachs wrote that it was "one of the few Semi stocks trading materially below peak multiples," and that there are "early signs of NXPI closing the gap between itself and the rest of the industry from a growth and margin perspective."
Take-Two Interactive Software was upgraded to outperform from market perform at Cowen, which wrote that the company was "the best vehicle to play the historical tailwind that has benefited group shares leading up to new console launches." Analyst Doug Creutz noted "the strong tendency of the gaming stocks to outperform the market during May-August," which this year would coincide with "another historically advantageous window" of the period ahead of new console launches. Take-Two is the best positioned stock to take advantage of this, he wrote, pointing to the company's valuation, recent execution, and its revenue exposure to consoles. However, he took off some points for its growth prospects, though this still put it ahead of Activision, which "doesn't score very strongly on any" of the metrics Cowen considered. Take-Two is "the most attractive option in a group where a slam-dunk buy case is hard to find," Cowen wrote.
Tick-By-Tick to Today's Actionable Events
Ray Dalio at at Milken Institute conference
Independent Community Bankers of America's Capital Summit, with FDIC's Jelena McWilliams
8:00am -- GNW earnings call
8:15am -- ADP employment change
8:15am -- YUM earnings call
8:30am -- CVS earnings call
9:45am -- April Markit manufacturing PMI
10:00am -- April ISM manufacturing, employment, prices paid; March Construction spending
10:00am -- HLT earnings call
2:00pm -- FOMC rate decision
4:01pm -- CZR earnings
4:05pm -- QCOM earnings
4:15pm -- SQ earnings
4:19pm -- CAR earnings
4:30pm -- CF earnings
4:45pm -- QCOM earnings call
5:00pm -- SQ, CZR earnings call
5:30pm -- YRI CN earnings