Maverick Harvard MBA Shakes Up Panasonic's 100 Years of Culture
(Bloomberg) -- Panasonic Corp. has carefully cultivated a culture befitting its 100-year history, with many employees starting the day doing calisthenics and singing the corporate anthem. Now, Yasuyuki Higuchi is supposed to shake up the traditions.
Higuchi, 60, last year took charge of the connected solutions business, which makes products ranging from in-flight entertainment systems to automation equipment. While his first job out of engineering school in 1980 was at Panasonic, he left the company after about a decade, just as Japanese manufacturers peaked during the consumer-electronics boom. Higuchi got a degree from Harvard Business School and spent the following 25 years working at Boston Consulting Group Inc. and Apple Inc., running department store chain Daiei Inc. and the Japanese operations of Microsoft Corp.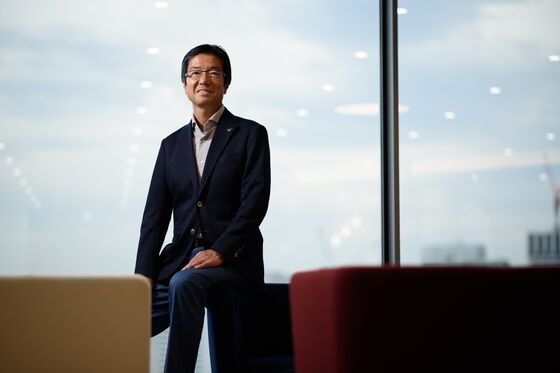 During that time, Panasonic's fortunes declined. The company booked 1.5 trillion yen ($13.5 billion) in losses over two years to March 2013 as a bet on large-screen plasma TVs backfired and its smartphones lost share to Apple's iPhone. President Kazuhiro Tsuga has since steered the company away from consumer products to focus on corporate customers. Tsuga bet billions of dollars on batteries for electric vehicles and a venture with Elon Musk's Tesla Inc. He also brought back Higuchi and other outsiders to help shake up the company's corporate culture.
During his first week back at Panasonic, Higuchi got a culture shock of his own. At an internal meeting, he took a random chair, only to be informed politely that seats had been assigned in advance. He told his staff to never again waste time on things like that.
"There was so much of this kind of inward-facing, pointless work going on," Higuchi said in an interview. "But someone living in a garbage-filled house may not even notice the clutter."
Higuchi's first big move was to relocate the division headquarters from Osaka, where Panasonic was founded as Matsushita Electric Industrial Co., to Tokyo, where most of its corporate customers are based. To avoid what he called "desk barricades" that insulate various internal departments, Higuchi chose a more open workspace layout, letting employees take their laptops and sit anywhere in the office.
"There is little labor mobility, so many Japanese companies have very different sets of protocols and their own deeply ingrained culture," Higuchi said, speaking at the company's new office overlooking the Tsukiji fish market and Tokyo harbor.
Some old habits proved harder to eliminate. Every Friday, managers filed weekly reports to their superiors and those in turn to their bosses, resulting in thousands of documents changing hands each week. Higuchi ordered the practice stopped only to find out three months later that it continued, sometimes under a different name. He then sent a companywide email saying that all reports are filed to him directly. Then the following week, he received only one.
"He brings the necessary breath of fresh air," when it comes to updating Panasonic's corporate culture, said Masahiko Ishino, an analyst at Tokai Tokyo Securities. "But he is also charged with producing synergies from a very disparate collection of businesses and it's not yet clear whether he can pull it off."
Panasonic's connected solutions unit is a collection of businesses that generated 1.11 trillion yen in sales during the last fiscal year, from products as far-flung as welding machines and surveillance systems to point-of-sale terminals. Higuchi's says there are already examples of successfully marrying the company's strength in hardware with software.
Tokyo's Haneda International Airport last year introduced a Panasonic-made automated immigration gate that uses facial-recognition technology. In March, the company created a joint venture with Haidilao International Holding Ltd., China's biggest hotpot restaurant chain, to introduce kitchen automation that will result in drastic labor savings.
"This know-how of making complicated mechanical things operate smoothly is still alive in Japan and it's in Panasonic's DNA," Higuchi said. "And you know it's the real deal if you can make that business succeed in China."