Mattis Isn't Done Yet With Key Tanker, Carrier Decisions Nearing
(Bloomberg) -- Defense Secretary Jim Mattis may be a lame-duck leader, but he's still weighing two major acquisition issues of consequence to Boeing Co. and Huntington Ingalls Industries Inc.
The Pentagon chief -- who stunned Washington this week by announcing plans to resign on Feb. 28 -- still has time to review the progress Boeing is making correcting deficiencies with its KC-46A tanker and whether the Air Force should accept the plane with flaws in its refueling system.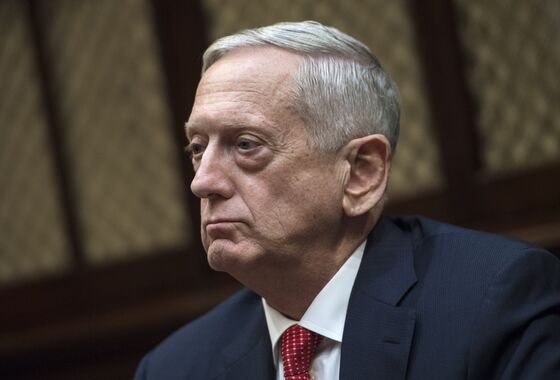 Mattis is also reviewing a Navy plan to buy two aircraft carriers from Huntington Ingalls in one contract -- a move the service says could deliver more than $2.5 billion in savings. His deputy, Patrick Shanahan, had expressed initial doubts about the proposal, but Mattis has the final say.
The decisions will be among the most consequential in Mattis's remaining two months in office. The 68-year-old Marine told President Donald Trump on Thursday that he was stepping down, delivering a blistering letter during an Oval Office meeting that made clear his differences with the commander-in-chief over national security strategy.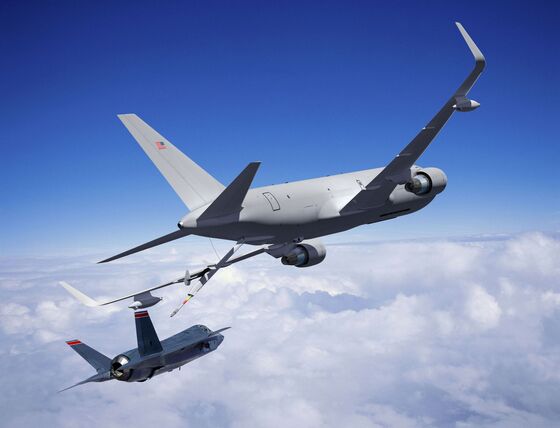 On Boeing's tanker contract, the Air Force has said it's confident the Chicago-based company can fix the issue if given more time, and the service wants to go ahead and start formally accepting aircraft. The project is already behind schedule: The first KC-46 was originally expected to be delivered between April and June 2016.
"We are still planning to hand over the first KC-46 to the Air Force before the end of the year," Boeing spokesman Chick Ramey said in an emailed statement. "We are extremely focused on delivering jets to the Air Force as soon as possible."
The tanker's flight-testing program has been beset by technical issues for what was once envisioned as a low-risk development project. The plain-spoken defense chief sent a sticky note to his chief of staff in November 2017 saying that he's "unwilling (totally)" to accept deficient planes. Mattis has been watching the program ever since.
In a signal that he isn't going to cruise into retirement, Mattis discussed the airplane's status with Air Force Secretary Heather Wilson ahead of his Thursday afternoon meeting with Trump, according to a defense official. If Mattis approves going forward, the Air Force could take delivery next month at McConnell Air Force Base in Kansas.
The other looming decision for Mattis concerns the new generation of aircraft carriers. Assistant Navy Secretary James Geurts told a Senate Armed Services Committee panel last month that the service has "been working closely with the shipyard and negotiating what savings would look like should we go into" a two-carrier contract. He said the Navy hoped to get approval from Mattis by Dec. 31.
Huntington Ingalls, builder of the new series of the Ford-class carriers expected to cost $58 billion, will benefit if the Navy commits to purchase two additional carriers at once. Congress gave the Navy authority in this year's defense policy bill to pursue the two-carrier contract with the Newport News, Virginia-based shipbuilder pending approval by Mattis.