Marks & Spencer Jumps on Profit Outlook, Turnaround Progress
(Bloomberg) -- Marks & Spencer Group Plc shares jumped after the retailer said it expects to generate pretax profit of as much as 350 million pounds ($495 million) this fiscal year as it recovers from the pandemic and enters the next stage of its turnaround.
The stock jumped as much as 7.4% in London, and is up about 22% since the start of the year.
The British clothing and grocery retailer said the positive outlook follows a strong rebound in demand in stores as lockdown restrictions ease across Britain. Sales in the first six weeks of the current year are ahead of the same period two years ago before the pandemic, the company said in a statement on Wednesday.
The chain also plans to "aggressively" expand capacity in its online food business joint venture with Ocado Group Plc. M&S has already banked almost 80 million pounds in profit from the venture in the year to April 3 as more people ordered food online while working from home. The contribution from Ocado was boosted by a business interruption insurance payout following a fire at a warehouse in 2019.
Despite solid demand in the food division last year, M&S's clothing and home arm suffered, with sales falling 32% after months of store closures. The chain also had to absorb higher costs as a result of the pandemic and Brexit. Overall, pretax profit slumped to 41.6 million pounds from 403.1 million the prior year.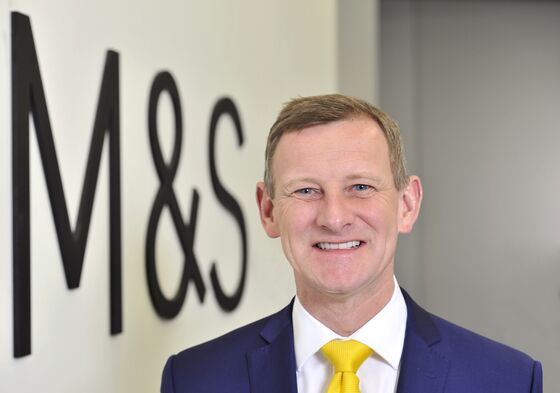 A household name in Britain, Marks & Spencer sells both online and through hundreds of stores across the country. Profitability has been falling for years, hurt by a long-struggling clothing and home division and wider structural changes in a competitive U.K. market. Various management teams have tried to turn the business around, with the current effort led by Chief Executive Officer Steve Rowe.
Rowe plans to streamline and improve the M&S clothing range, cut costs, open larger food stores offering a fuller range, and sell more fashion and groceries online. That's after the pandemic hit M&S with some stores shut for months during lockdown.
Last week, Rowe said M&S has "fixed the basics" and is now moving into a growth phase with a reorganized top management team. He said the pandemic also helped accelerate its transformation.
On Wednesday, Rowe said the profit recovery this year will be aided by its food business as Ocado increases capacity and as shoppers continue to buy more of their weekly groceries from M&S than before. The clothing and home division will benefit from a better range and stronger growth in online sales.
Rowe also outlined plans to accelerate the "rotation" of its store estate. This will include closing 30 stores as well as relocating and modernizing others.
"With the right team in place to accelerate change in the trading businesses and build a trajectory for future growth, we now have a clear line of sight on the path to make M&S special again," Rowe said in the statement.