M&S Rises After Second Profit Upgrade Adds to Recovery Signs
Marks & Spencer Group Plc's stock soared Wednesday as the U.K. retailer raised its profit forecast for the second time this year, indicating that a long-promised turnaround might finally be at hand. 
Shares in M&S surged as much as 21% in London trading after the chain said it expects profit to be about 500 million pounds ($678 million) this fiscal year. In August, it predicted about 350 million pounds. The improved outlook followed strong food sales and a recovery in the clothing and online businesses.
A household brand with hundreds of stores across the nation, M&S has been trying to revamp its business for at least the past decade, with successive management teams repeatedly failing to return to a time when the chain generated profit topping 1 billion pounds.
For years, M&S has been bogged down by a large and expensive store portfolio, and clothing designs that were often dismissed as old-fashioned, ill-fitting and pricey. 
Under Chief Executive Officer Steve Rowe and Chairman Archie Norman, M&S's latest revival plan has focused on cutting costs, streamlining store numbers, investing in technology to drive online sales, expanding the food business, and improving the range, design and pricing of apparel. They've also been moving to reduce the retailer's reliance on sales promotions.
Rowe said the strong interim performance and profit upgrade show the turnaround is on track. 
"This is the plan we set out three years ago and we have delivered," he said on a call with reporters Wednesday. "We still have a substantial amount to do but I feel we are on the right track for creating a sustainably profitable business." 
M&S reported first-half pretax profit of nearly 270 million pounds on Wednesday, beating market expectations. The clothing division performed solidly despite some lockdown-related store closures, with revenue down only 1%. Full-price apparel sales increased 17% and the retailer said it gained market share. 
What Bloomberg Intelligence Says:

Marks & Spencer's updated pretax-profit guidance isn't a complete surprise, given high 1H earnings expectations have been exceeded, yet the concentration on full-price clothing sales is encouraging. That, as well as adapting to online, see the long-troubled clothing division positioned for further growth.

-- Charles Allen, BI retail analyst

Full-Price Focus Positions M&S for Longer-Term Expansion: React
Food sales rose 10% as the pandemic spurred more people to eat at home, and M&S said it also gained a bigger share of that market. The chain has been expanding its range of food so that consumers can do more weekly shopping there rather than just picking up ready-meals for dinner on the way home from work. 
M&S, which for years claimed it didn't need to sell food online, is also benefiting from its retail partnership with web grocer Ocado Group Plc. The pandemic has increased the penetration of online grocery sales overall in Britain to more than 12% of the market from about 7%.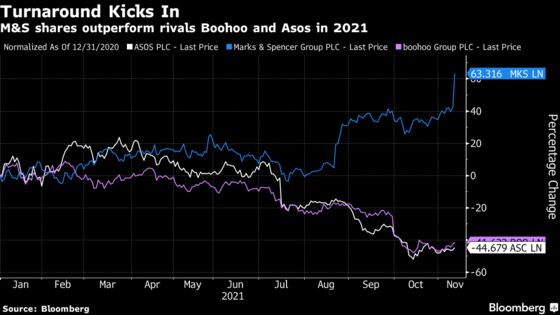 The retailer's shares had already increased 43% since the start of the year. Wednesday's gain lifted M&S's market value to 4.4 billion pounds. The company, which was demoted from the FTSE 100 in 2019, is once again worth more than online retailers Boohoo Group Plc and Asos Plc.
"I have long since given up worrying about what goes on in the stock market," Rowe said. "We are simply focused on delivering a good Christmas in the short-term and executing our plan, and the share price will react accordingly to that."