Market's Highest Flyers Lose Favor in S&P 500's Return to Record
(Bloomberg) -- Beneath the recovery that has brought U.S. stocks back to all-time highs lies a shift in market leadership that some investors may find troubling.
While the S&P 500 rose for a third day and closed at a record, market darlings including technology and dividend stocks are suddenly falling out of favor. Laggards, such as those that trade at lower prices relative to earnings or book value, are coming back to life, with energy shares jumping 3.8%.
The speed of rotation is perhaps best captured by Dow Jones measures of quantitative factors. The gauge for a momentum portfolio that buys winners and sells losers tumbled 2.2%. A similar index for value rallied 3%. The performance gap was the biggest since September, when momentum stocks suffered their worst rout since 2009 and dealt a blow to some hedge funds.
This time, the damage may be less severe as hedge funds have started cutting back on growth stocks such as technology that led the market's rally in recent years. Still, a lasting rotation to value shares could pose a threat to their performance. As of mid-December, prime brokerage data compiled by Morgan Stanley showed that hedge funds' exposure to growth relative to value stocks hovered near a five-year low.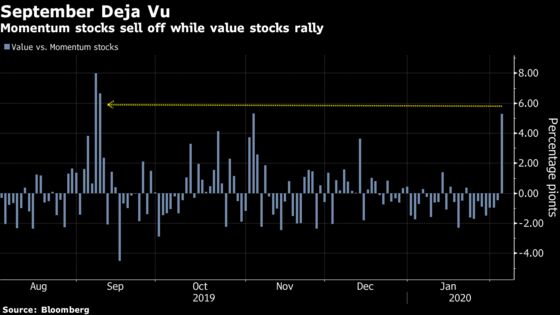 Like hedge funds, many investors have for years stuck to the safety in growth and defensive stocks, betting on their resilience in times of turmoil. Caution persisted last month with the rapid spreading of the coronarivus and the political uncertainty heading to the Iowa caucuses. Yet Wednesday brought headlines that fostered a risk-on mood in markets: a coronavirus vaccine may be close to being tested, U.S. economic data is strengthening and presidential Democratic candidate Pete Buttigieg was leading in the Iowa caucuses over Bernie Sanders, who was seen as less market friendly.
"Markets throughout January, and the final week of the month in particular, went to a place where we began to price in a lot of 'worst-case scenarios,"' according to Charlie McElligott, a cross-asset strategist at Nomura. "Even just incremental 'good' news could introduce a shock" and spark a reversal to these flight-to-safety bets, he wrote in a research note.
Among the market favorites that reversed course Wednesday, Tesla Inc. plunged 17% after doubling this year, while a Goldman Sachs basket of highly-valued software stocks slumped 3.4%, trimming its 2020 gain to 18%.
Jonathan Krinsky, chief market technician at Bay Crest Partners, pointed out that the velocity of gains in technology compared with energy shares has reached unprecedented levels on Tuesday, with a measure of relative strength of their performance at the lowest since at least 1990.
"We think today is likely the start of a tactical reversion in energy versus technology," Krinsky said. "This is not a call for an end to the primary trends or the cycle, but simply a tactical reset."
With money moving into areas previously seen as being too risky to own, broader participation may help calm concerns that the market's gains have become overly reliant on a small number of stocks, namely Apple Inc. and other tech giants. Still, Tobias Levkovich, chief U.S equity strategist at Citigroup Inc. said he worries about the euphoria.
"Pretty much every client we talk to wants to buy the dip," Levkovich said. "That is not comforting."