Market Punishes PG&E on Speculation About Downgrade and Default
(Bloomberg) -- PG&E Corp. may still be investment grade, but stock and bond investors are starting to price in doubt about the company's financial strength.
California's biggest utility saw its most active bonds trade down yesterday to a level close to B rated high-yield credits, five notches below its current BBB rating. The company's stock has fallen as much as 31 percent over the past day, extending a decline that wiped out more than half its market value in the past week. And its five-year credit default swaps, a derivative that acts as insurance on the company's debt, were marked dramatically higher by data provider CMA on Thursday.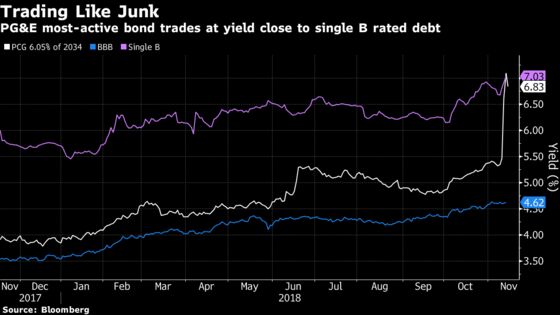 PG&E is under scrutiny about whether its equipment caused one of the fires that has broken out in California, and it already faces damages related to the 2017 wildfires. The market's gloomy reaction to PG&E's announcement that it had exhausted its revolving credit lines to boost cash and manage liabilities reflects anticipation that the company may see its credit rating cut to junk because of the wildfire damage.
"The market is pricing that in, and we don't disagree with it," Andy DeVries, an analyst at CreditSights Inc., said by phone on Nov. 14.
A downgrade would be bad news for PG&E because it would hinder the company's ability to raise new financing in the market. It also has just under $1 billion of short-term debt and would face a cash collateral requirement of at least $800 million to guarantee power contracts if it were downgraded, according to Carol Levenson, director of research at Gimme Credit.
"Even though the company is nominally a triple B, it's not unusual for downgrades to come fast and furiously in situations like this, so a downgrade to below investment grade is certainly a real possibility," she said in an email.
Some analysts say the company could face up to $30 billion in wildfire-related liabilities, and that's led to speculation that it may need to eventually file for bankruptcy. PG&E previously filed for bankruptcy in 2001.
The company borrowed under its credit facilities to provide greater financial flexibility, including for general business purposes and to pay down debt, PG&E spokeswoman Melissa Subbotin said in an email. She declined to comment on what factors may be influencing the stock movement.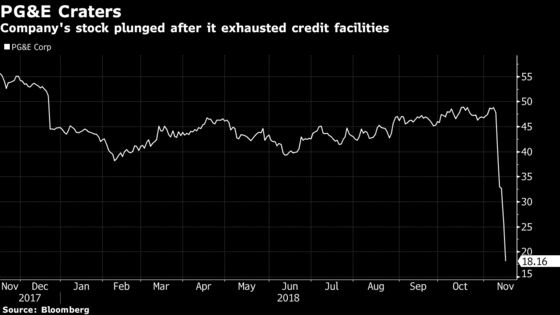 The stock plunge makes lending to PG&E less attractive because creditors generally prefer that a company has a solid equity cushion under its debt. What's more, the company's $18 billion of unsecured corporate bonds outstanding have equal priority to get repaid in a bankruptcy situation as any wildfire-related claims. The company also would lose access to its commercial paper program.
"The bonds are trading like they're single B and you lose commercial paper at low BBB," DeVries said. "That's not an option."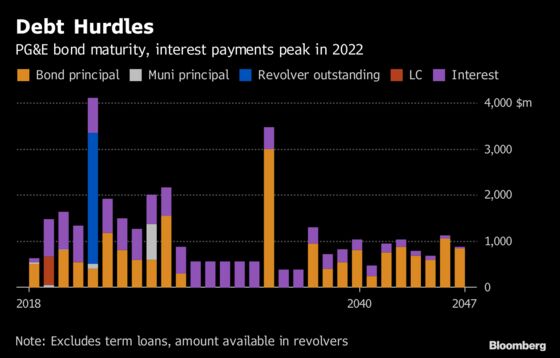 The grim picture leaves market participants looking to California for possible assistance. There's speculation the state may introduce new legislation on Dec. 3 to address the 2018 wildfires, according to a note from Bank of America Merrill Lynch analyst Julien Dumoulin-Smith. This could lessen the liability burden PG&E faces.
Bankruptcy speculation is overdone considering the fact that the company has only $2.8 billion of wildfire claims at present, and adequate cash, Dumoulin-Smith said. The company doesn't have any significant maturities until 2022.
Moody's Investors Service said on Monday that "additional financial stress on PG&E is likely" but it did not change the Baa2 rating, which is on negative outlook. "The magnitude of the fire's destruction leads us to believe the potential liabilities could be material for PG&E," Moody's said. Joe Mielenhausen, a Moody's spokesman, declined to elaborate.
Elizabeth Fogerty, a spokeswoman at Fitch Ratings, and Jeff Sexton, a S&P Global Ratings spokesman, declined to comment.