Margarita Louis-Dreyfus Taps Credit Suisse for Loan
(Bloomberg) -- Margarita Louis-Dreyfus, the billionaire at the helm of the eponymous agricultural trading house, tapped Credit Suisse Group AG for a loan needed to buy the shares of other family members, according to people familiar with the matter.
The Swiss bank is working on the loan to Louis-Dreyfus and her family trust Akira, said the people, who asked not to be named because the details are confidential. Louis-Dreyfus announced she had secured funds last week, but didn't disclose the terms of the loan or who would be financing it.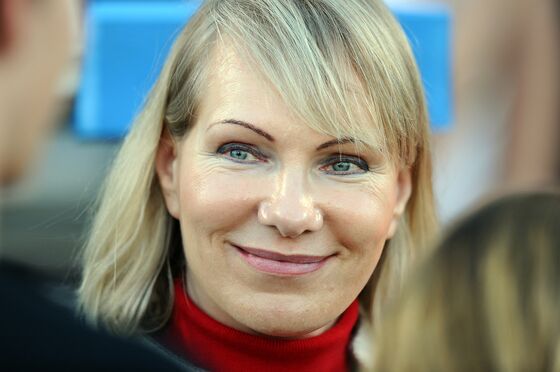 A loan would be a much-needed cash infusion for the Russian-born heiress, who had been pulling big dividends from the company to buy the family stakes, worth about $900 million. She has previously turned to Credit Suisse for loans to fund share purchases, borrowing $475 million in 2016. It's not clear if the new borrowings will be used to refinance the existing debt.
Representatives for Louis Dreyfus and Credit Suisse declined to comment.
The stock purchases are part of the chairwoman's broader plan to take almost full ownership of the biggest trader of rice and raw cotton. Under a deal signed by the family years ago, Louis-Dreyfus must buy shares tendered by relatives over certain periods. The relationship between the billionaire and the relatives has soured, so they have been tendering larger amounts of equity, forcing Louis-Dreyfus to spend hundreds of millions of dollars on the shares.
The trading house has faced intense turmoil this year, including the departure of its top leadership and declining profits. Louis Dreyfus Co. paid a $411 million dividend to its shareholder owners this year, even as first-half profit fell by more than a third.
The chairwoman signaled last week that she will consider selling a stake in the company, opening the family business to outsiders for the first time since its founding in 1851.