Marathon World Record Hands Nike Its Biggest Win in 15 Years
(Bloomberg) -- When Kenyan Eliud Kipchoge shaved 1 minute and 18 seconds off the world record for the 26.2 mile marathon distance on Sunday in Berlin, it was the athlete's biggest triumph ever.
For Nike Inc., it was the first time in 15 years that a runner lowered that mark with the company's swoosh at its feet, as all previous records since 2003 were set in shoes by arch-rival Adidas AG.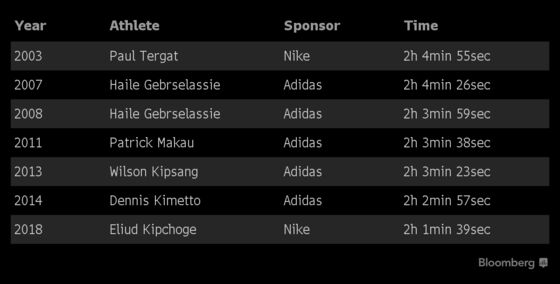 Kipchoge crushed the 2014 record set by his fellow countryman Dennis Kimetto by the widest margin in years. The 33 year-old features in Nike's controversial Colin Kaepernick ad as "the fastest ever" runner, lending a face to the millions of recreational runners that attempt to complete the famous distance every year. Running is Nike's most important category, generating $5.2 billion during the fiscal year ended May 31, more than double the size of its soccer business and more than its Jordan brand and basketball sales combined.
The victory is double-sweet for Nike as Kipchoge blamed his shoes in 2015 for not managing a better time at the race. Kipchoge ran the distance in 2 hours and 25 seconds at a closed car racing circuit in Monza, Italy, under conditions that wouldn't qualify for a world record as he had pacesetters that rested during the race. Last year, rain slowed him at the Berlin marathon, a fast, flat track on which all world records were achieved since that honor was awarded to street races.