Manhattan Rents Surge to Record on Demand for Doorman Buildings
(Bloomberg) -- Apartment rents in Manhattan rose to a December record, fueled by demand at buildings that have doormen.
The median rent in New York's most expensive borough climbed 16% from a year earlier to $3,475, according to a report Thursday from appraiser Miller Samuel Inc. and brokerage Douglas Elliman Real Estate. That was largely due to leases at buildings with doormen, where rents are now above pre-pandemic levels.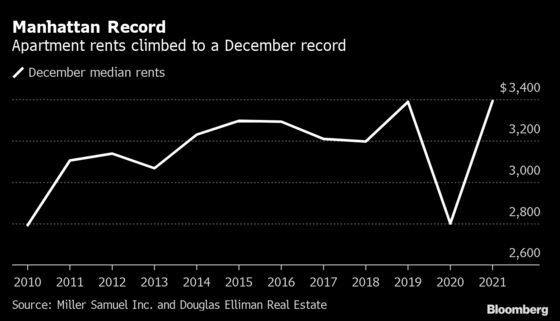 Median rents at doorman buildings climbed 23% to $4,298, while buildings without doormen gained 7.8% to $2,695. That's an example of the polarization in the market, with prices at non-doorman buildings still lagging behind 2019 levels, according to Jonathan Miller, president of Miller Samuel. Landlords at luxury buildings, meanwhile, are cutting back on concessions. 
Manhattan's rental market, which took a hit when the pandemic shut down New York in 2020, has been rebounding in recent months. Now, supply is getting tight. Inventory fell 81% from a year earlier in December and the vacancy rate is 1.7%. That, along with the rise in omicron cases, drove a 39% decline in new leases for the month.
"The market is coming off of unsustainable activity levels and trending toward more sustainable patterns in the coming months," Miller said. "Omicron is in the mix for sure, just slowing down activity too."