Manhattan Builders' 5-Year Plan: 33,000 New Rentals and Condos
(Bloomberg) -- There's a surplus of homes in Manhattan, and here come tens of thousands more.
About 33,000 new units for sale or rent are expected within the next five years, with the largest concentrations in the northern and southern parts of the borough, according to an analysis from Marketing Directors, a new-development brokerage.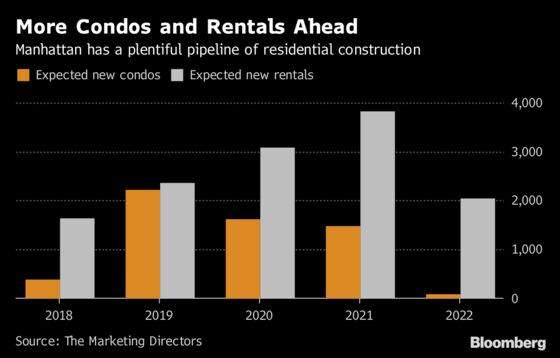 The trouble is, Manhattan is already flooded with high-end condos and apartments from a post-recession building boom -- a glut that's put a damper on both rents and purchase prices as New Yorkers take their time to shop for the best deals. For developers, the next wave of construction could add to the pressure to find tenants and buyers.
"It's really the top question we get from our developer clients, after 'How much can we sell this for?' and 'How fast can we sell it?'" said Joshua Silverbush, director of market insights for the New York-based brokerage. "What else is coming up, and what are we competing against?"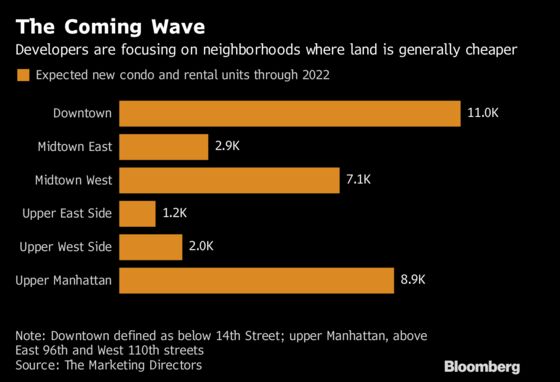 An estimated 1,643 new rentals are expected to reach the market between now and the end of this year. The apartment pipeline will swell to 3,831 in 2021, according to the firm, which tallied both units that have secured and applied for building permits, as well as announced projects for which paperwork hasn't begun.
More new condos are coming too -- more than 2,000 of them in 2019 alone. For projects with detailed sales plans, the average price per unit is $2.7 million, according to Silverbush. That suggests much of upcoming supply is smaller homes, and less focused on grand spaces aimed at ultra-wealthy investors, he said.