Man Group Outflows Accelerate on Equity Strategies Retreat
(Bloomberg) -- Outflows from Man Group Plc's money pools accelerated in the third quarter as the world's biggest publicly traded hedge fund firm suffered from an industry-wide exodus of capital.
Clients pulled $1.1 billion, the same amount they withdrew in all of the first half, the London-listed money manager said in a statement on Friday. The outflows were mainly concentrated in long only equity money pools. Assets under management dropped to $112.7 billion from $114.4 billion at the end of June.
The firm received inflows into quant funds as they extended their positive performance into the third quarter. The hedge fund manager also said it will purchase up to $100 million of shares and that it continues to search for acquisition opportunities.
Hedge funds are facing accelerated outflows after years of mediocre returns and high fees. Investors are baling out and pulled about $64 billion from the industry through August this year, which is already 71% more than the whole of last year, according to data compiled by eVestment.
"As we look ahead, we are encouraged by our good performance fee earning potential, although uncertain economic conditions mean the outlook for flows remains mixed," Chief Executive Officer Luke Ellis said in the statement.
Man Group fell as much as 5.2% in London trading, the most in two months, and was down 3% at 157 pence as of 10:34 a.m.
Outflows, the most over three months since the second quarter of 2015, were higher than expected by analysts at Morgan Stanley and Numis Securities.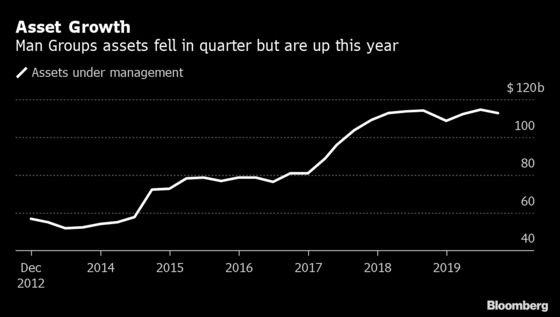 Since Ellis took over in 2016, Man Group has further diversified its business and added more than $30 billion in assets. The firm has increased the use of artificial intelligence to make money and expanded investments into real estate to shield the company from volatile flows that have troubled the $3 trillion industry.
The firm's main computer driven hedge funds have rebounded this year and added to their returns during the third quarter. It's main $6.3 billion AHL Dimension fund was up 8.1% this year, while the AHL Diversified Fund surged 14.6%, up from a gain of 2.9% and a loss of 3.5% respectively in 2018. Hedge funds gained 6.7% on average in the first three quarters of 2019, lagging a 20.6% surge in the S&P 500, according to data compiled by Hedge Fund Research Inc.
Man Group, best known for its computer-driven strategies, can limit the damage from the investors' retreat thanks to its diverse range of funds. Its long only funds drove the outflows and decline in assets as clients pulled $1.7 billion. It's alternative money pools, many of which typically command higher fees, still received $700 million in inflows and added $1.1 billion through performance during the third quarter.