Malaysia Unveils Biggest Budget to Spur Post-Covid Recovery
(Bloomberg) -- Malaysia on Friday announced a record spending plan for 2022 and proposed a one-time tax on some corporates as it seeks to revive its virus-battered economy. 
The government will allocate 332.1 billion ringgit ($80 billion) to boost recovery, according to reports released alongside the budget. Although that's about 3% larger than the budget passed a year ago, the fiscal deficit is expected to narrow to 6% of gross domestic product, from 6.5% this year.
"Budget 2022 supports three main axes: strengthening the recovery, building resiliency and driving reforms," Finance Minister Zafrul Abdul Aziz said in parliament Friday.
Further reopening and increased global demand, coupled with higher commodity prices and implementation of infrastructure projects, will boost economic growth to 5.5%-6.5% in 2022, Zafrul said. He maintained this year's GDP projection at 3%-4% growth.
Malaysia's economy was battered by political turmoil and tight movement restrictions for most of 2021, leading the government to miss many of the growth and financial projections outlined in the previous budget. Total spending for this year was cut to 320.6 billion ringgit as revenue trailed the target by 6.7% -- lower even than in 2020, when the pandemic began.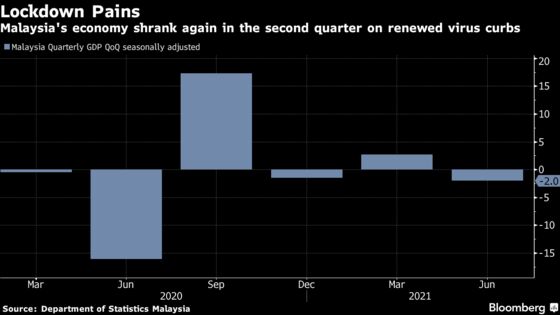 The previous government, which collapsed in August over its handling of the pandemic, revised its 2021 growth forecast and budget deficit twice. Prime Minister Ismail Sabri Yaakob, who took office in August, has said he won't dissolve parliament before the end of July next year as part of an accord with the opposition to maintain stability.
The budget "remains expansionary, which is not surprising given the need to boost the nascent economic recovery – and the political compulsion ahead of a potential election next year," said Wellian Wiranto, an economist at Oversea-Chinese Banking Corp. in Singapore. "The projected deficit is higher than the 5%-5.5% we had in mind, signaling the government's keenness in maximizing whatever fiscal space it has on hand."|
Zafrul introduced a one-off "prosperity" tax of 24% on firms with taxable income of up to 100 million ringgit, and 33% on any income after that threshold, as part of revenue-raising measures aimed at funding the budget.
He also proposed a service tax on delivery services including those by e-commerce platforms on all goods except food and beverages and logistics services. Excise duty will also be levied on vape and e-cigarette liquids containing nicotine, he said.
Malaysia's rapid vaccine rollout is fueling hopes to fully open the economy by year-end. Interstate travel resumed this month after 90% of adults received a full course of Covid inoculations, with a pilot international tourism bubble launching in Langkawi island next month. 
The nation's main stock index declined 0.3% at the close, capping a seventh straight day of declines, while the ringgit gains versus the dollar.
Cash handout of 2,000 ringgit to households earning less than 2,500 ringgit
Revenue is projected at 234 billion ringgit, aided by a jump in tax collection to 171.4 billion ringgit and in non-tax revenue to 62.6 billion ringgit
The government will prioritize domestic market issuance for borrowings; overall federal debt is projected to reach 66% of GDP, while statutory debt will reach 63.4% by end-2022
Monetary policy is expected to remain accommodative and supportive of recovery, while ensuring that prices remain manageable
Government expects 25-billion ringgit in dividends from Petronas in 2022, and 5 billion ringgit from the central bank
23 billion ringgit is allocated for stimulus measures, thanks to a higher ceiling for the Covid-19 Fund. The bulk of it will be used for cash and social assistance
75.6 billion ringgit is set aside for development spending (2021: 62 billion ringgit), with economic and social sectors receiving 40.2 billion ringgit and 22.7 billion ringgit, respectively
8.7 billion ringgit will be spent on new projects, such as upgrading roads and bridges
1MDB's outstanding financial obligations stand at 39.3 billion ringgit; the government has paid up to 12.8 billion ringgit for the fund's commitments and debt servicing