Malaysia to Hold Key Rate As Lockdown Eased
(Bloomberg) -- Malaysia will likely keep its record-low benchmark interest rate steady Thursday, maintaining support for the economy after months of movement restrictions to fight the pandemic.
Bank Negara Malaysia will keep its overnight policy rate at 1.75% for a sixth straight meeting, according to 19 of 21 economists surveyed by Bloomberg. The other two predict a 25-basis point cut, which would be the bank's first since July 2020.
The meeting comes as the government has relaxed virus curbs in six states that met vaccination and virus-caseload thresholds outlined in a national recovery plan. The vaccination rate has picked up since June, with 8.4% of the population having received both shots as of Monday.
"Overall, the recovery outlook for the economy is intact," analysts at Maybank wrote in a research note Sunday, arguing that the central bank will keep its benchmark rate at 1.75% for the rest of the year. "The issue or downside risk is more of the speed and strength of the recovery."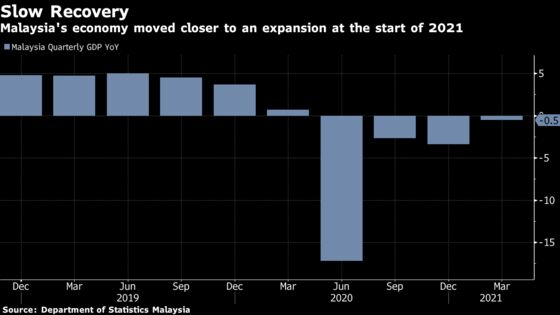 To be sure, Malaysia isn't out of the woods yet. Most of the country is still under a costly lockdown that has been in place since June 1. Last weekend the government tightened restrictions for two weeks in large swathes of its most industrialized state, Selangor, as well as several localities in Kuala Lumpur. The country added 7,654 new Covid cases Tuesday, its biggest daily tally in more than a month.
Here's what to watch for in Thursday's decision:
Malaysia's central bank may flag the impact of prolonged restrictions amid expectations that the economy won't rebound strongly until the final quarter of the year. Malaysia will announce a revised full-year growth forecast next month, after projecting in March that the economy will grow6%-7.5%.
If Covid variants fuel a fresh wave of infections that requires an extended nationwide lockdown, "we expect the easing cycle may resume, as BNM still has ample room to cut interest rates to support the economy," analysts at Kenanga research wrote July 2.
What Bloomberg Economics says:
Bank Negara Malaysia may leave its policy rate unchanged at 1.75% on Thursday. Vaccine efforts have gained momentum, and the medium-term outlook has improved in key respects since the previous policy meeting in early May, despite tighter social distancing measures. The government announced a fresh stimulus package on June 28, worth 150 billion ringgit, to cushion the impact of the lockdown.

Tamara Mast Henderson, Asean economist

Click here to read the full report
After it lowered rates by a total of 125 basis points last year, Bank Negara Malaysia may say Thursday that its monetary policy stance remains appropriate and accommodative.
Still, with government fiscal space limited, the burden of any further easing may well fall on the central bank, according to Wellian Wiranto. The Oversea-Chinese Banking Corp. economist is one of the two analysts who expect interest rates to be cut to 1.50% Thursday.
So far the market isn't pricing in any changes to the overnight policy rate for the next six months, Maybank economist Suhaimi Ilias said at a briefing Monday, adding that "we're looking at a 25-basis point hike in the OPR next year."
In March the central bank outlined several signposts for policy normalization. They include steady and sustained economic improvement, a narrower output gap, price stability and sustainable growth of private consumption and investment driven by fundamentals rather than policy support.
Bank Negara Malaysia said at its last meeting that it expects consumer inflation to average 2.5%-4% this year -- primarily on higher global oil prices -- and projected a temporary spike in inflation in the second quarter.
Inflation moderated in May, rising a lower-than-expected 4.4% from a year earlier after April's 4.7% gains. The moderation was due to renewed movement restrictions that impacted prices of food and non-alcoholic beverages, according to BIMB Securities Research analyst Imran Nurginias Ibrahim.
"Nevertheless, successful vaccine rollout in the country in line with reducing the number of Covid-19 infections, which will remove restrictions by stages, will likely improve sentiment and encourage spending moving forward," Imran wrote in a research note.