Malaysia Keeps Rates on Hold Amid Signs of Economic Recovery
(Bloomberg) -- Malaysia's central bank kept its key interest rate unchanged Thursday at a record low, ending its streak of four straight easing decisions as the reopened economy shows signs of recovery.
Bank Negara Malaysia left the overnight policy rate at 1.75%, as predicted by 12 of 21 economists surveyed by Bloomberg. Nine had expected a 25-basis-point cut.
The decision marks the first time Bank Negara Malaysia has stayed on hold this year after cutting at its last four meetings. The economy hit bottom in the second quarter, contracting 17.1%, but trade and employment data since then have shown marked improvement.
The cumulative 125 basis points of cuts so far this year "will continue to provide stimulus to the economy," the bank said in a statement announcing the Monetary Policy Committee's decision. "Given the outlook for growth and inflation, the MPC considers the stance of monetary policy to be appropriate and accommodative."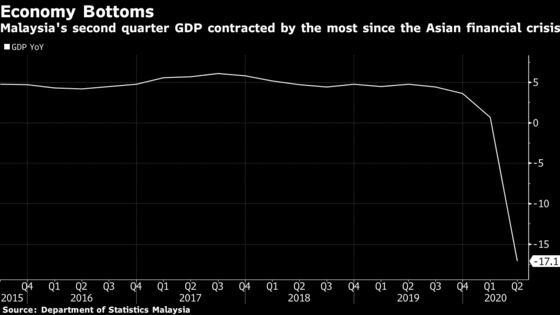 The central bank projects GDP to shrink 3.5% to 5.5% this year, with the worst blow in the first half. That compares to the 4.3% contraction economists surveyed by Bloomberg expect.
The central bank said the recovery should continue into next year, but noted that risks remain.
"The pace of recovery will be uneven across sectors, with economic activity in some industries remaining below pre-pandemic levels, and a slower improvement in the labor market," Thursday's statement said. "This outlook is still subject to downside risks, particularly from ongoing uncertainties surrounding the course of the pandemic domestically and globally."
The ringgit was 0.1% stronger as of 3:43 p.m., at 4.1675 per dollar. Three-year government bonds extended losses, with the yield rising eight basis points to 1.93%.
The central bank's statement "suggests the door remains open for easing in the future if necessary," but for now, they believe previous cuts are enough to boost growth, said Wellian Wiranto, an economist at Oversea-Chinese Banking Corp. in Singapore. "On both global and domestic fronts, even if the recovery may be uneven and subject to downside risks, it is continuing -- and that's enough for them to be on hold to wait and see for now."
Other points from the decision:
Inflationary pressures should remain muted in 2020, with headline inflation likely to average negative for the year, before returning to the forecast ranges in 2021. Global oil and commodity prices can have a significant impact on the outlook, however
Despite Thursday's hold, the bank is willing to use its policy levers as appropriate to enable a sustainable recovery
Joseph Incalcaterra, HSBC Holdings Plc's chief Asean economist, predicted the bank would cut again in November as the recovery slows. He also noted the recent move to raise the federal government debt limit, which provides room for additional fiscal measures to bolster the economy.
Bank Negara "is joining the bandwagon of regional central banks trying to take stock of the impact of their actions," said Euben Paracuelles, chief Asean economist for Nomura Singapore Ltd., who correctly predicted Thursday's hold. "But I think this is just a pause rather than signaling the end of the cutting cycle, with BNM still clearly leaving the door open for further easing and acknowledging that the risks to the growth outlook are tilted to the downside."