Mahathir Downplays Threat to Choose China Jets Amid EU Palm Spat
(Bloomberg) -- Malaysian Prime Minister Mahathir Mohamad downplayed threats that the country may switch to China to source its fighter jets instead of the European Union to retaliate against the bloc's plan to restrict palm oil.
The Southeast Asian country has not decided to buy Chinese jets and that's "only a suggestion," Mahathir told reporters in Selangor on Monday. "I haven't made any decision. We may not buy any jets at all," he said.
State news agency Bernama on Sunday quoted Mahathir as saying Malaysia will think of buying airplanes from China or any other country if the EU keeps banning its palm oil, and may consider buying China-made fighter jets. Malaysia is the world's biggest palm oil producer after Indonesia.
Palm oil has emerged as a flash-point in a potential trade spat between the EU and top producers Indonesia and Malaysia, which together account for about 85 percent of global supply. The European Commission this month restricted the types of biofuels from vegetable oil that can be counted toward its renewable-energy goals. The proposed EU curbs have weighed on benchmark palm prices, which have fallen for five straight quarters.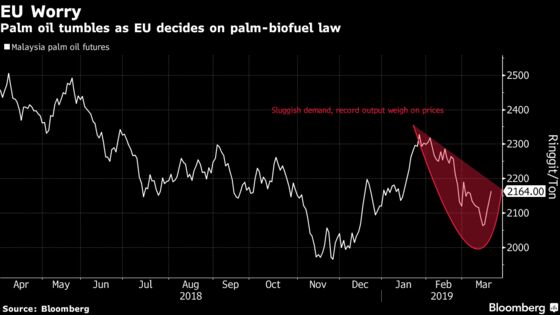 Mahathir said he has written to the EU on the palm oil spat and will discuss with Indonesia on the next course of action. Indonesia's House Speaker has also written to the EU Parliament, according to its foreign affairs ministry.
"We're considering legal action against the EU," Oke Nurwan, director general of foreign trade said in Jakarta on Monday. "Diplomatic action is also part of our plan, including whether we need to send a team to lobby the EU," he said. Indonesia exported $17.1 billion worth of products to the bloc last year, while imports totaled $14.1 billion.
Adding to palm oil's woes is the Philippines. Its Agriculture Secretary Emmanuel Pinol renewed an earlier recommendation calling for a "temporary ban" on the tropical oil's imports as local coconut and palm farmers struggle with low prices caused by what he called "dumping of the commodity by two major palm oil producing countries in Southeast Asia."
Benchmark palm oil futures on Bursa Malaysia Derivatives dropped as much as 1.6 percent on Monday to 2,133 ringgit ($524) a ton in Kuala Lumpur.