Malaysia Holds Rates on Recovery, 'Benign' Inflation Outlook
(Bloomberg) -- Malaysia maintained its benchmark interest rate at a record low Wednesday, supporting a nascent economic recovery as virus restrictions ease and inflation remains under control.
Bank Negara Malaysia kept the overnight policy rate at 1.75% at its final monetary policy meeting of the year, a decision expected by all 18 economists in a Bloomberg survey. The central bank last lowered borrowing costs in July 2020.
The central bank noted in its policy statement that core inflation next year will edge up but "remain benign" and that it expects it to average below 1% this year, lower than the 0.5%-1.5% outlook at its last meeting in September.
"We continue to expect BNM's policy rate to remain status quo until the second half of 2022," said Muhammad Saifuddin Sapuan, an economist at Kuala Lumpur-based Kenanga Research. "The inflation rate outlook remains low, and there is a need for monetary policy to stay accommodative to aid economic recovery along with the government's sizable fiscal expenditure next year."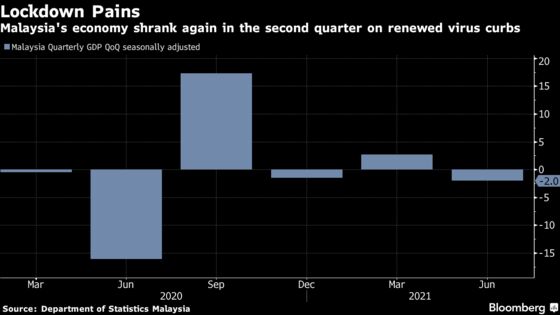 The rate decision follows the government's unveiling last week of a record $80 billion budget for 2022, aimed at boosting its recovery from the pandemic. 
"Fiscal and financial measures will continue to cushion the economic impact on businesses and households and provide support to economic activity," the central bank said in its statement. "Given the uncertainties surrounding the pandemic, the stance of monetary policy will continue to be determined by new data and information and their implications on the overall outlook for inflation and domestic growth."
The ringgit maintained the day's losses after the decision, down 0.2% against the dollar. Malaysia's main equities index was down 0.3% as of 3:55 p.m., holding near the day's lows after the decision.
What Bloomberg Economics Says...

"The central bank's wariness of the remaining downside risks to growth may not prevail for long, with a more sustainable recovery now in motion and price pressures building. We expect BNM to start its tightening cycle in the second quarter of 2022, earlier than our previous projection for a 25-basis point  hike in 3Q."

Tamara Mast Henderson, Asean economist

To read the full note, click here
Malaysia's economy is beginning to rebound after a year spent under tight lockdown conditions. Total trade rose to a record in September, driven by strong external demand and the easing of curbs in Kuala Lumpur and the industrial hub of Selangor. The manufacturing purchasing managers' index for last month was the highest since April 2021, reversing the trend of contraction.
Still, the recovery is fraught with risks. The virus is spreading more rapidly again as activity picks up, and a statewide election in coming weeks could spark a new Covid wave if social distancing rules aren't followed. Two fines have already been issued to program organizers for failing to adhere to virus protocols, the Health Ministry said in a statement Tuesday.
Other points from the central bank's statement:
Headline inflation is likely to average within the projected range of 2%-3% this year, and will remain moderate next year
Core inflation will edge up as economic activity normalizes, but remain benign given spare capacity in the economy and labor-market slack
The inflation outlook is subject to global commodity price developments and some risk from prolonged supply-related disruptions
The bank's comment on moderate headline inflation in 2022 "appears to be a volley against any building expectation that BNM will be compelled to start hiking rates next year," said Wellian Wiranto, an economist at Oversea-Chinese Banking Corp. in Singapore. "To us, the central bank will try to keep its policy rate unchanged for as long as it can."