Tencent's Relief Rally Fails to Convince Mainland China Traders
(Bloomberg) -- Tencent Holdings Ltd.'s best day of the year prompted traders in China to get out fast.
Mainland investors sold a net $145 million worth of shares in the Chinese Internet giant through stock links with Hong Kong on Thursday, according to exchange data. That's the most they've dumped since early February, when a spike in U.S. volatility sparked a selloff across global equity markets. They sold another net $31 million on Friday, the data showed.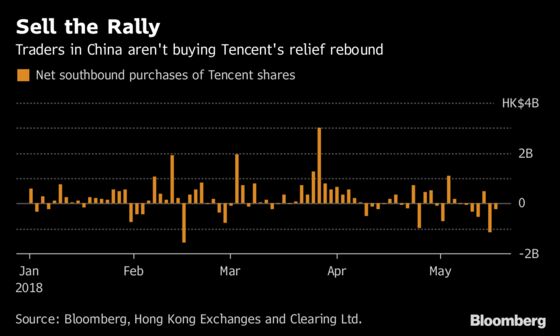 Record quarterly profit and better-than-expected margins boosted Tencent shares after they'd lost almost $100 billion in value as investors braced for a squeeze from increased spending and investments. Traders based in Shanghai and Shenzhen have been net sellers of Tencent in six of the past seven days.
Overall turnover in Tencent was $3.7 billion on Thursday, the busiest day for the stock in Hong Kong since March. The stock traded ex-dividend on Friday, closing flat after Thursday's 3.7 percent gain.