Stakes Are High for Mahathir in First Budget Back as Malaysian PM
(Bloomberg) -- Less than six months in office, Malaysian Prime Minister Mahathir Mohamad is staring down a possible credit rating downgrade in his government's first budget.
Economists and market watchers are bracing for bigger deficit targets, higher debt and slower economic growth when Finance Minister Lim Guan Eng delivers his budget speech on Friday. Moody's Investors Service has already flagged threats to Malaysia's A3 rating, while credit-default swaps have risen.
The budget will be a tough balancing act for 93-year-old Mahathir: he needs to find more revenue and keep debt under control, without angering voters and stalling the economy with higher taxes and severe spending cuts.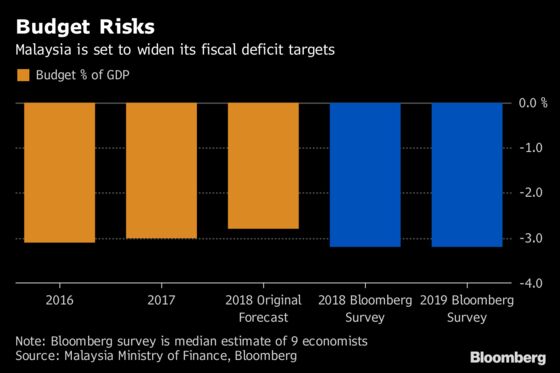 The ousting of Najib Razak's government "was very much triggered by economic discontents," said Wong Chin Huat, a political analyst at the Penang Institute. Mahathir's ruling Pakatan Harapan coalition, "which won only 48 percent of popular votes, must tread very carefully between competing demands of fiscal discipline and avoiding a popular backlash."
Part of the deficit problem is due to Mahathir's own doing. Shortly after winning the May 9 election, he scrapped a consumption tax to fulfill a key campaign pledge, which Lim has said leaves a 23 billion ringgit ($5.5 billion) revenue shortfall. The government has also fixated on contingent liabilities -- such as guarantees for public companies -- which if included in the state's overall debt figures would push up the ratio to above a self-imposed threshold of 55 percent of gross domestic product.
There's progress in recouping about $4.5 billion potentially lost through scandal-ridden 1MDB, as the U.S. unveiled criminal charges against two former Goldman Sachs executives for their alleged roles in siphoning monies from the Malaysian state fund. That may help ease the government's burden in paying off 1MDB's borrowings.
What Our Economists Say...
If the plan to narrow the gap is realistic, locking down a 3% deficit target for 2020 may appease rating agencies and contain damage to investor sentiment from significant fiscal slippage in 2019. Importantly, tax revenue targets should not be overly ambitious. In particular, there should not be too much reliance on asset sales, which can disappoint when needed most.
Read More:  Plug Budget Gap, Keep Growth - Won't Be Easy

-- Tamara Henderson, Bloomberg Economics
Here's a snapshot of what economists are expecting:
The previous government had an optimistic target of 2.8 percent of GDP for the budget deficit for this year, which it planned to slowly narrow over time. Mahathir's move to scrap the goods-and-services tax and replace it with a sales tax makes that goal unlikely.
The median forecast of nine economists surveyed by Bloomberg is for the deficit to reach 3.2 percent of GDP in 2018 and remain at that level next year. The government has already abandoned a plan by the previous administration to balance the budget in two years time, forecasting instead a shortfall of 3 percent of GDP in 2020.
Mohamed Faiz Nagutha, an economist at Bank of America Merrill Lynch in Singapore, said a key question for investors relates to the medium-term fiscal plan. Even though authorities may commit to reducing the deficit over time "details are going to be important in convincing investors," he said in a note.
The economy was one of the growth stars in Asia last year, expanding almost 6 percent on the back of an export boom, strong public infrastructure spending and cash handouts by the previous government. Growth has eased this year amid rising trade risks and after the political transition led to a slump in public spending.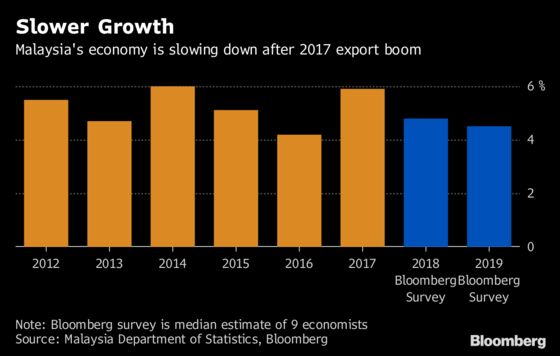 Economists in a Bloomberg survey forecast growth of 4.8 percent this year and 4.5 percent next year. According to a mid-term review, the government is projecting expansion of 4.5 percent to 5.5 percent in 2018 to 2020.
Mahathir's focus in his first few months in office has been to root out corruption, reform key institutions and reprioritize some spending. That's made businesses cautious to invest, and the "private sector is looking towards the coming 2019 budget for new policies, growth catalysts, and fiscal clarity," said Julia Goh, an economist at United Overseas Bank Ltd. in Kuala Lumpur.
The government may make some key tax changes to help boost revenue. These are some of the measures it could adopt:
Digital tax: Like other Southeast Asian nations, Malaysia may look to tap the fast-growing e-commerce world with new levies, according to Mohd Afzanizam Abdul Rashid, chief economist at Bank Islam Malaysia Bhd. in Kuala Lumpur
Sugar tax: To help promote healthy living, a tax on sugar or soda consumption could be imposed
Logging and carbon tax: To improve and protect the environment, the government could consider green taxes. Neighboring Singapore plans to introduce a carbon tax from 2020
Others: Bloomberg Economics' Tamara Henderson said she doesn't expect the government to invoke a capital gains tax. A levy like that would be a disadvantage to Malaysia relative to peers, she said. New taxes on inheritance or online transactions are unlikely to be rolled out until 2020, she added