Maersk Shares Sink After Outlook for 2021 Disappoints
(Bloomberg) -- A.P. Moller-Maersk A/S, the world's largest container carrier, unveiled an outlook that disappointed the market amid signs freight rates are close to peaking.
Shares in the Copenhagen-based company slumped about 8% when trading started in the Danish capital.
Underlying Ebitda for 2021 is expected to rise to between $8.5 billion and $10.5 billion, the Copenhagen-based company said on Wednesday. That compares with an average estimate of $10.46 billion in a Bloomberg survey of analysts. Ebitda came in at $8.3 billion last year, shy of the $8.6 billion expected by analysts.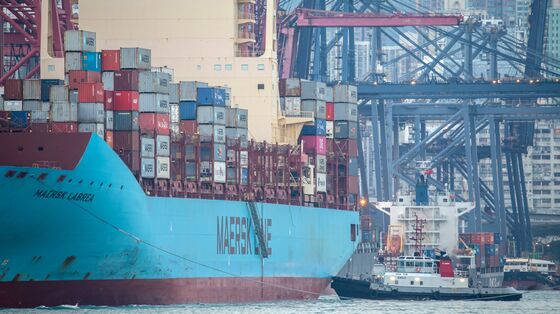 "The impression investors are left with is that earnings, for now, may have topped because the main driving force, namely high freight rates, has peaked," said Per Hansen, an investment economist at Nordnet in Copenhagen.
Chief Executive Officer Soren Skou said the fourth quarter "was marked on the one hand by a continuous impact of the Covid-19 pandemic but also by some rewarding progress on our strategy to become the integrator of container logistics."
Maersk said it expects "the current exceptional situation with a demand surge leading to bottlenecks in the supply chain and equipment shortage" -- which it estimates contributed about $1.5 billion to Ebit last year -- to continue this quarter "and normalize thereafter."
As a result, the company sees profitability in the first quarter "to be above" that seen in the fourth quarter, it said.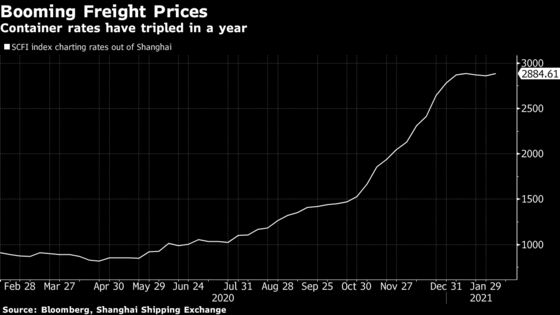 The pandemic has upended global consumption patterns, with people responding to lockdowns by ordering a lot more online. The trend has helped container carriers such as Maersk bounce back after a decade shaped by a recurring oversupply of ships that weighed on prices.
But the latest development gave the industry scope to raise freight rates more than threefold on some trade lanes. Meanwhile, a shortage of vessels and containers, combined with congestion at some ports, has restricted supply, adding to price pressure.
Maersk shares gained 42% in 2020, marking their best performance since 2005. The stock hit a record late last month, but has since come down on expectations that freight rates have peaked.