Maersk Shares Plunge on Slowing Economies and Trade Tensions
(Bloomberg) -- Want the lowdown on European markets? In your inbox before the open, every day. Sign up here.
A.P. Moller-Maersk A/S, the world's biggest shipping line, forecast 2019 profit below analysts' estimates and said trade disputes are dimming the outlook for world economic growth. The shares plunged.
Maersk said Thursday that Ebitda, a measure of operating profit, will be around $4 billion for the year, compared with an average estimate of $4.77 billion in a Bloomberg survey of analysts. The shares sank as much as 13 percent in Copenhagen, marking their worst day since June 2016.
Chief Executive Officer Soren Skou said in an interview with Bloomberg Television that while there's now "positive momentum" in U.S.-China talks, the focus may shift to Europe. Demand in Maersk's ocean segment will grow only 1 percent to 3 percent, he said.
Maersk is a trade bellwether because its ships carry almost one-fifth of the world's containers, and analysts said the forecast is a cause for concern in the wider industry.
"Maersk and its container shipping peers face a real test of demand, we expect trade is in for a significant slowdown in 2019 as we are past the inventory buildup phase driven by cargo front-loading," said Rahul Kapoor, an analyst at Bloomberg Intelligence in Singapore.
Read More About Maersk's Fourth-Quarter Numbers
In a note to analysts, Fearnley Securities referred to the "growing uncertainty" around Maersk, saying that "overall soft guidance, roughly 20 percent below expectations, and high uncertainty leaves continued poor risk-reward in our view."
Maersk also announced Thursday the final stage in its efforts to unwind a conglomerate structure that had once relied on both energy and transport. Instead, the company will focus on transport, and plans a separate listing for its oil drilling unit -- the last major corner of its energy business -- on April 4. The full-year report was Maersk's first to exclude the oil drilling unit.
The drilling spinoff is a key part of Skou's plan since he became CEO in mid-2016. The end of Maersk's century-old conglomerate structure was supposed to unlock value, but the share performance since Skou took over has been disappointing.
Back in April, Ane Maersk McKinney Uggla, whose family has a controlling stake in the company, asked shareholders to have "a little bit of patience" with Skou's project.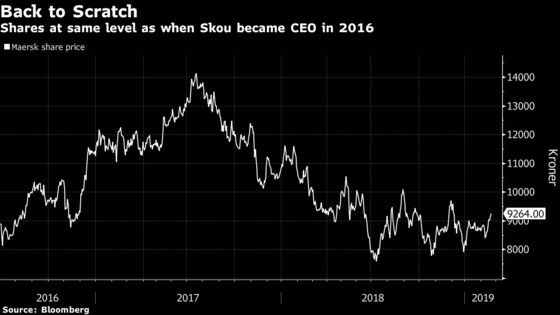 Maersk said its outlook was affected by new accounting standards. Ebitda for 2019 is expected to be around $5 billion when including the effects from IFRS 16, and around $4 billion, when excluding those effects, the company said. From the first quarter, guidance for Ebitda will be based on IFRS 16, it said.
For Maersk's 2018 statement, click here
Watch CEO Skou on Bloomberg TV at 9:30am CET here