Maduro's Masked Thugs Unleash Terror Along the Venezuelan Border
(Bloomberg) -- The masked motorcyclists roared into the border town, shooting pistols in the air. They sent terrified demonstrators racing to cower in doorways or tremble in the homes of strangers. They formed roadblocks to shake down dissidents, and late into the night they prowled debris-strewn streets in deafening patrols.
In San Antonio del Tachira, Venezuela, colectivos -- gangs loyal to autocratic President Nicolas Maduro -- led the charge against those who challenged the regime this past weekend. They terrorized thousands who tried to usher humanitarian aid into the hungry nation from Colombia, brutalizing them within a block of an international bridge where food and medicine were waiting.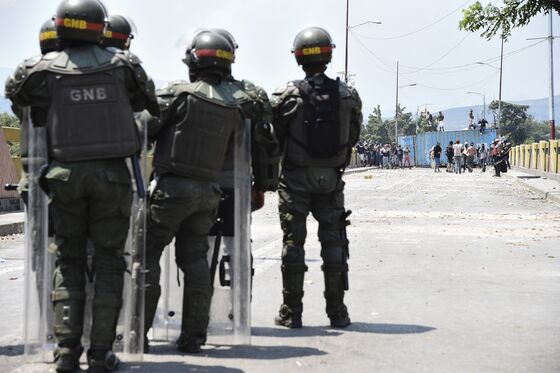 "We were completely powerless,'' said Ismael Oropeza, 39, who was among the masses that marched down the main avenue early Saturday. As protesters confronted Venezuelan national guardsmen, men with their faces covered by ski masks and bandannas emerged from behind a row of soldiers and opened fire, Oropeza said. "If your government shoots you like a dog in the street, who do you turn to?"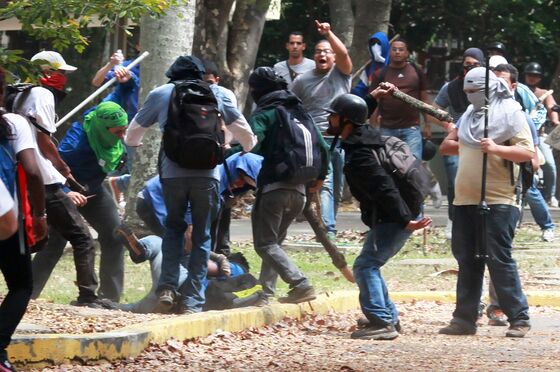 As Maduro maneuvers against the attempts of National Assembly leader Juan Guaido to unseat him, mobilizing the colectivos is a risky gamble. He last unleashed the gangs on a large scale during months of protests in 2017, brutal clashes that cemented the regime's autocratic image. Now, with world's attention on Maduro, their savagery is eliciting condemnation and figures to propel international efforts to drive him out.
"This is doomsday for Maduro and colectivos,'' said Alejandro Velasco, an associate professor of Latin American studies at New York University. "They are not thinking in terms of trying to win a war of optics. They are trying to win a war, period.''
On Saturday, violence raged along Venezuela's borders as Guaido and his supporters -- which include the U.S. and some 50 other nations -- amassed supplies at entry points in Colombia and Brazil. The aid was meant to sustain an oil-rich country brought low by years of corruption and mismanagement. It also was meant to demonstrate the leadership of Guaido, 35, who claims the constitution makes him the rightful leader because Maduro stole last year's election.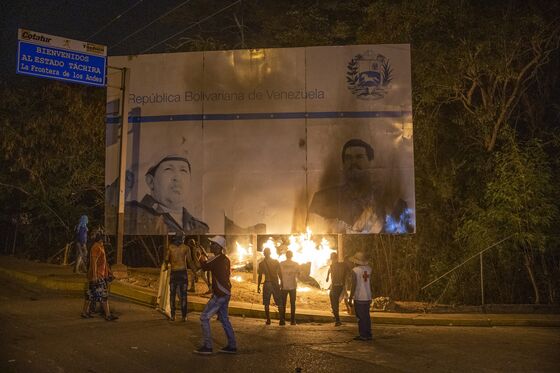 Maduro said the convoys were a pretext for a foreign invasion, and his forces crushed the effort with tear gas, plastic buck shot and often bullets. At least 200 people were wounded, and in the remote town of Santa Elena de Uairen at least four died as troops and colectivos ran rampant, according to eyewitnesses.
U.S. Senator Marco Rubio of Florida and Secretary of State Mike Pompeo condemned the use of gangs to repress civilians. "They will soon realize just how badly they overplayed their hand,'' tweeted the Republican senator, who has helped shape U.S. policy. Michelle Bachelet, the United Nations high commissioner for human rights and a former Chilean president, condemned the "disgraceful scenes."
Colectivo is an umbrella term to describe irregular, leftist groups in impoverished areas, and there are dozens across Venezuela. They originated in the urban-guerrilla movements of the 1960s and later regrouped in slums doing community work -- vigilantism coupled with political education.
Hugo Chavez, the late president who came to power in 1999, brought the former outlaws into the socialist fold. He created Bolivarian Circles, armed organizations that took over or spawned colectivos. Some members got government jobs as bodyguards and in security details, giving them access to arsenals.
Under Maduro, Chavez's handpicked successor, members are often former police officers and soldiers who are allowed autonomy, authority and sway over social-welfare programs. They say they are defending the revolution, keeping the peace and protecting the poor against the scourge of drugs. Rights groups accuse them of committing extrajudicial killings, running graft schemes and terrorizing those who defy their curfews and orders.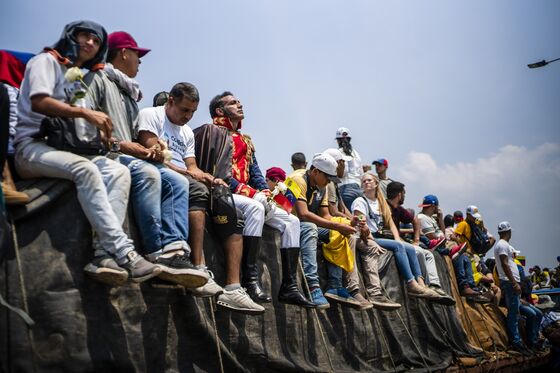 Some have deep neighborhood ties and control entire city sectors. But many have lost their connections to communities as they crack down on widespread dissent, said Velasco, who studies popular protest in Venezuela.
"They have all the trappings of a paramilitary repressive force,'' he said.
Colectivos have a penchant for robbing reporters, taking or destroying gear and firing wildly at crowds that mass for protests. In 2017, they beat protesters with batons and split open a congressman's brow. They swarmed into the building of the opposition-dominated National Assembly in Caracas, hammering lawmakers with clubs amid billows of tear gas.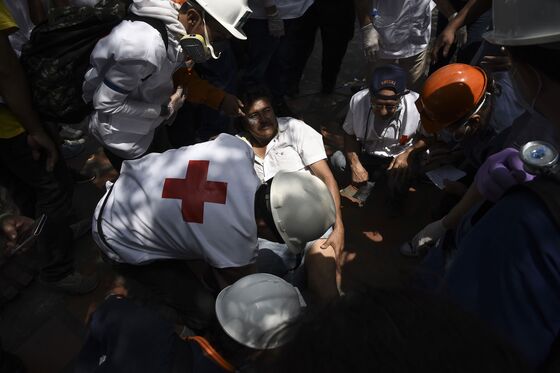 San Antonio was quiet Monday, and any remaining colectivos were lying low. But over the weekend, no one seemed safe as bikers sped through town firing off bursts of bullets. Medics on the streets attending the wounded knelt and raised their hands as the masked riders zoomed past.
Josman Mora, 28, a surgeon from the oil city of Maracaibo came to San Antonio to volunteer and helped three people wounded by gunshots. But gang members menaced the group of two dozen medics with pistols, Mini Uzis and homemade guns.
"They said, 'Facists, traitors, who are you tending to? Our people or the opposition?'" Mora said.
A terrified stampede of protesters forced hot-dog seller Javier Yepez, 34, indoors with his family, where they listened to spent ammunition bounce off the zinc roof. "I pulled the children from their beds and made them sleep under an old refrigerator so nothing would happen to them,'' he said.
The colectivos' re-emergence comes as traditional security forces are beginning to fray. Thousands of guardsmen abandoned their posts in recent years, and more than 270 soldiers and police have deserted since Saturday, according to Colombian officials.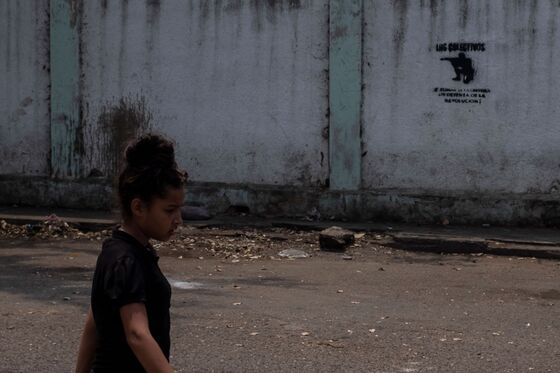 Guaido and his allies are offering amnesty for corruption and rights abuses to security officers who switch sides, but few of the top brass have heeded his call.
Velasco says the government may be using colectivos to relieve pressure on the military as protests swell. The gangs "have nothing to lose; Maduro understands this,'' he said.
But as the bitter crisis drags out, many stand to lose everything. Ana Maria Arcila, 59, sat in front of her home in San Antonio recalling how she hid a half dozen strangers for hours.
"What happens next if that aid doesn't come in? What happens if things get even worse, and people try to rise up again?'' she asked.
A graffito stenciled on homes and looted stores offered one answer. It showed a man holding a rifle and the words: "Colectivos take the border.''