Made in Mexico. Killed in Mexico
(Bloomberg) -- The passenger van was barreling along a highway north of Mexico City when it slammed into a truck, killing 13 and injuring eight. It was the country's deadliest traffic accident in months, with shocking photos of the aftermath printed in national newspapers and broadcast on television.
And it raised a question: If the van had been made for the U.S. or Canada, would as many people have died? Chances are, no.
Consumer advocates make this point after most fatal crashes in Mexico, the largest auto manufacturer in the Western Hemisphere behind the U.S. With more than 80 percent of their vehicles destined for export, Mexican factories are fully equipped to meet the world's strictest safety regulations. Mexico itself doesn't have them, which industry critics will tell you is in large part because of resistance from the car companies.
Campaigners for a more-rigorous safety code have seized on the July 20 accident as they make their case. The 2016 Nissan Urvan wasn't equipped with airbags, and didn't have three-point rear seat belts or an anti-lock brake system. Those features won't be mandatory until 2020 for vehicles sold in Mexico but have long been required in the U.S.
"It's deplorable," said Alejandro Funes, director of the New Car Assessment Program for Latin America and the Caribbean. The nonprofit, known as Latin NCAP, has been lobbying Mexico for years to upgrade safety rules. (Among its donors is Bloomberg Philanthropies, a nonprofit headed by Michael Bloomberg, owner of Bloomberg News parent Bloomberg LP.)
Mexico is hardly the only country called out for lax vehicle standards, though its standing as a major manufacturer puts it in the spotlight. Its auto sector has been one of the success stories for the nation in the North American Free Trade Agreement, with more than $26 billion in direct foreign investment pouring in during the past eight years. Almost every big name in the industry, from Ford Motor Co. to Volkswagen AG, has set up shop there.
While consumer advocates blame both the companies and the government for resisting change, they reserve their harshest criticism for car makers, including the 10 based in the U.S and other foreign countries with Mexican factories that produce for the domestic market.
"What these companies will tell you is that they comply with the local regulations, and they do," said Stephan Brodziak, head of auto safety at Poder del Consumidor, a consumer-rights advocacy group in Mexico City. "What they don't tell you is they're sitting at the negotiating table through industry associations to prevent regulations from becoming stricter or to stretch out adoption timelines."
Officials with AMIA, Mexico's main auto-industry trade group, didn't respond to repeated emails and calls. The Economic Ministry, which regulates auto safety, also didn't respond to calls and emails. A spokesman for Nissan Motor Co. declined to comment on the Urvan accident or consumer groups' criticism, saying only: "Our vehicles satisfy or exceed the safety regulations in the different markets where we operate."
The ministry began the process of updating safety regulations in 2014, negotiating with AMIA, other trade groups and consumer-protection organizations. The result was the new 2020 requirements.
Critics viewed that as some progress, though not enough. They have complained that electronic stability control, or ESC, hasn't even been on the table. ESC builds on ABS and helps drivers maintain control on slippery roads or in hard swerves. The U.S. has required it since 2012, and it saved more than 7,000 lives between 2011 and 2015, data from a study by the National Highway Traffic Safety Administration show. Adding ESC to cars built with ABS brakes costs about $60 per unit, according to Latin NCAP.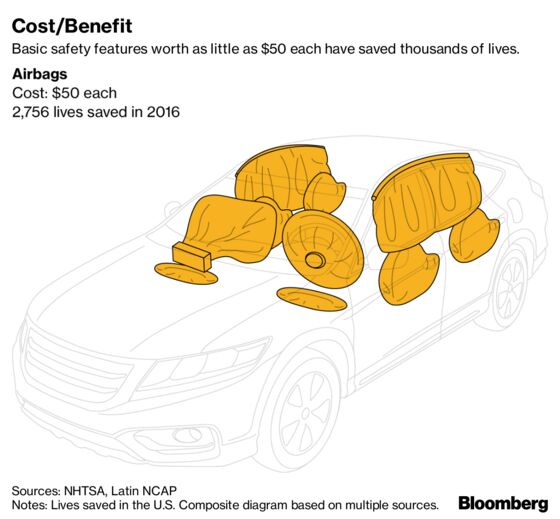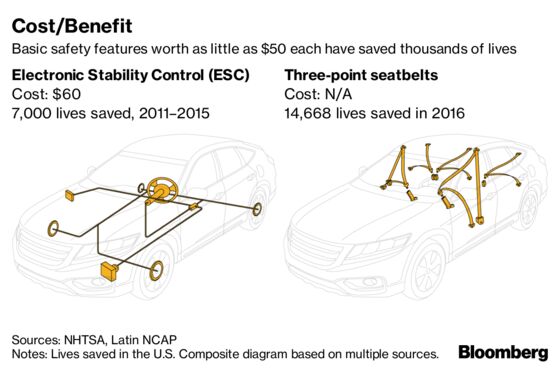 The Economy Ministry's regulatory committee said in January that the 2020 rules should be updated to include ESC. The industry trade group responded that the regulation shouldn't be amended. "It's an appropriate instrument -- and the industry needs certainty to accordingly plan towards complying with the current norm," Eduardo Solis, AMIA president, said in a letter to the ministry.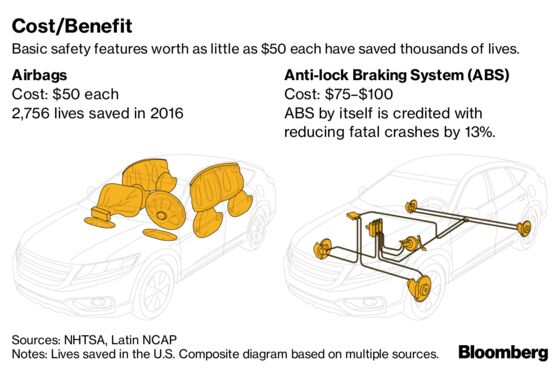 While $60 may seem "remarkably inexpensive when you look at the big picture," it's significant for a manufacturer that's squeezing pennies to maximize profits, said Sean Kane, founder and president of Safety Research and Strategies Inc. in Rehoboth, Massachusetts.
Consumer-product makers often use cost as an argument when objecting to new regulations. Some U.S. car companies employed this tactic after Ralph Nader's 1965 book "Unsafe at Any Speed" helped unleash a movement for equipment and material that would better protect drivers and passengers. Pushback often delayed federal proposals for such improvements as stronger bumpers and airbags.
"It took an act of Congress to propose a rule making it a standard to require three-point seat belts," Kane said. The dance between the industry, consumer advocates and the government in Mexico now "is pretty similar to what the U.S. was dealing with in the 1980s."
In the July 20 accident, law enforcement authorities faulted the Urvan's driver, saying he had been speeding.
While the Urvan is made to seat as many as 15 people, the one that crashed had been modified to accommodate 23; seats are typically added to the vans that transport companies use to shuttle workers between the suburbs and Mexico City. The official report on the incident didn't indicate whether three-point seat belts would have made a difference.
Braulio Barojas -- whose mother, Gloria Morales, was in the van on her way to work as a cleaner and suffered a broken hip -- said he's convinced the belts would have saved lives. He blames the government for not standing up to big corporations. "They seem to just not want to change."