Macy's Investors Like the Sound of Cost Cuts as Sales Stagnate
(Bloomberg) -- Macy's Inc. appeased investors after an ugly holiday quarter with plans to save money by cutting jobs at the top levels.
The department-store chain said a new round of cost-cutting measures -- including the headcount reductions -- will boost the speed of decision making and trim costs. That's going to help it generate annual savings of $100 million, after taking some pain up front: a $80 million charge in 2018.
Those plans helped soften the blow after Macy's posted same-store sales for the holiday quarter that missed analysts' estimates even after warning it wouldn't be pretty. The retailer said Tuesday that a long-awaited sales pickup will be slow to materialize. Comparable-store sales, a closely-watched measure, will be up no more than 1 percent this year, according to company guidance, while overall revenue may not see any growth at all.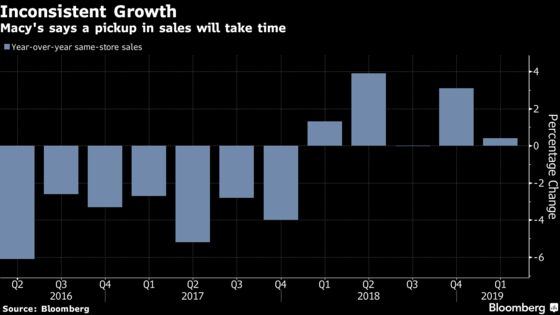 Wall Street focused on the cost-saving measures, sending the shares up as much as 5.1 percent to $25.60 in New York Tuesday, before paring some of the gain.
Macy's will release a savings goal for the next three to five years later this year, Chief Financial Officer Paula Price said on a call with analysts.
Still, in the longer term, investors are anxious to understand how the company is planning to breathe new life into its actual sales.
"You can cut costs for as long as you can, but you really need to fuel growth through top line," Bloomberg Intelligence analyst Poonam Goyal said in an interview. "The question is: Is Macy's working to make itself relevant again? They're saying they're going after the categories that work well, rather than trying to fix what doesn't work well."
Macy's, slower to adapt to new retail trends than some of its upstart rivals, has announced steps in that direction. It said it will focus on new economic models this year, including doubling the number of in-store pop-up market locations and building out its virtual reality furniture capabilities. And it's had some recent luck online, with digital sales logging double-digit growth in the fourth quarter.
But is it enough? Other retailers got through the Christmas period just fine, with Walmart Inc. reporting its best holiday quarter in at least a decade.
"While it is certainly true that December's overall U.S. retail sales numbers were not as good as anticipated, trading was still solid across the total holiday period," Neil Saunders, managing director of GlobalData Retail, said in a note. "As such, Macy's cannot use this as a complete excuse for slower growth across the final part of the year."