Macron Suffers Another Blow to Presidency as Minister Quits
(Bloomberg) -- It's been a long, hot summer for Emmanuel Macron.
The French president went into the break buffeted by a scandal over a rogue aide and returned to a string of bad news on the economy and his reform agenda. In between, temperatures climbed to as high as 104 degrees Fahrenheit (40 degrees Celsius) across wide swathes of the country. It was a fitting backdrop to what came on Tuesday: Nicolas Hulot, the star minister for energy and the environment, resigned, citing "small steps" taken by Macron's administration for the planet.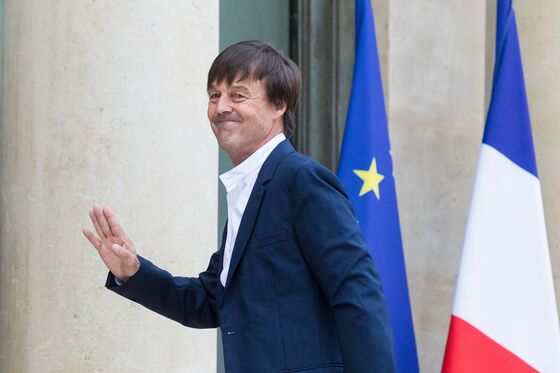 While not the first minister to quit, Hulot's critique is particularly cutting for Macron, who came to power last year saying that his election was the embodiment of France's transformation, even revolution. One day after a foreign-policy speech loaded with grand ambitions, the resignation is a reminder that Macron's presidency hinges on the success or failure of his domestic program.
"It takes time to change things in a country and Macron knows it, but what we see now is a climate, a change of mood in France over his actions," said Bernard Sananes, who heads Paris-based polling institute Elabe. "He's facing severe headwinds."
The 40-year-old leader, known internationally for his pro-active, reform-focused agenda, is running into obstacles at home as he prepares for a fresh wave of economic overhauls, from taxes to social benefits, that threatens to alienate even more voters. His government has warned that the economy won't grow as fast as planned this year and next -- closer to 1.7 percent than the 2 percent targeted -- making any new budget cuts even more difficult for the French to swallow.
READ MORE: Slower French Growth Forces Macron Action on Deficit Targets
Stubbornly high unemployment and an economic expansion that lags that of France's European peers are rubbing away the sheen of Macron's 2017 victory. Over the past eight months his approval rating fell 18 percentage points to 34 percent, his lowest according to pollster Ifop. A majority of French believe his policies are disappointing and see his actions as negative for the country, according to Elabe.
Overhauling France is a "systemic" project "and it's normal that it takes some time," Labor Minister Muriel Penicaud said Tuesday on Europe 1 radio, shortly before Hulot announced his surprise resignation on another network. Penicaud agreed that unemployment wasn't falling fast enough despite the labor-law reforms and the company stimulus she and her colleagues launched in the past 15 months. "It's long-haul work," she said.
Unemployment still hovers above 9 percent and has dipped by just 0.3 percentage point since Macron took power, despite a series of measures to make the job market more flexible and to tighten control over benefits.
What's more, negative sentiment is still fresh over a video released by Le Monde newspaper showing his private bodyguard beating demonstrators at a May Day protest. Macron and his staff covered up the incident for weeks and later defended Alexandre Benalla before being forced to fire him in July.
For political opponent and France Unbowed party lawmaker Adrien Quatennens, the addition of Hulot's resignation is a signal that "the whole Macron system is dislocating," he said on BFM Television.
Hulot, 63, blamed the Macron administration's lack of action to protect the environment against pesticides or land destruction and in sheltering biodiversity, among other causes he sought to promote. Hulot, a vocal environmentalist for decades who made television programs about nature, was one of Macron's most prominent ministers. He said he hadn't notified the president or the prime minister ahead of his radio announcement.
READ MORE: EDF Shares Rise as Ecology Minister Quits Amid Nuclear 'Madness'
Such was his influence that Hulot's decision to quit prompted some movement on the markets. Shares of Electricite de France SA -- the national energy company that owns the country's nuclear reactors -- gained as much as 2.7 percent after the minister announced his resignation. The government is preparing its energy policy road map for the next 10 years, which aims to reduce the use of nuclear power. Electricite de France is trying to convince Macron to agree to new atomic plants to replace part of its aging fleet.
France is "persisting" in a nuclear industry that's "useless madness, economically and technically," Hulot said on the radio. "I haven't managed to convince on all those issues."
Government spokesman Benjamin Griveaux said he only found out as Hulot spoke on radio, and that the surprise resignation "lacks courtesy" to the president. "I wished he had stayed," said Griveaux, praising Hulot for his work. Griveaux defended Macron's policies, saying "it takes time" to reform farming methods and humans' impact on the environment.
The Elysee presidential palace saluted Hulot, saying that he "can be proud of his work" as minister, AFP reported, citing the president's office.
The government "has a total determination to continue to take into account climate change and its impact on France and all of humanity," Prime Minister Edouard Philippe told reporters in Paris. He pledged to work on the topics Hulot said had been insufficiently addressed.