Macquarie Shares Surge on Profit Outlook as Markets Rebound
(Bloomberg) -- Macquarie Group Ltd. surged the most in 10 months in Sydney trading after raising its profit outlook as markets rebound from the coronavirus pandemic.
"We are now expecting fiscal 2021 to be slightly down as opposed to significantly down, which is where we saw it at the end of the first half," Chief Executive Officer Shemara Wikramanayake told analysts at a briefing on Tuesday.
The stock climbed as much as 7.9% in early trade, and was at A$143.76 at 12:01 p.m., up 7.1%. The stock has almost doubled from its lows in March 2020 when markets slumped during the first months of the pandemic.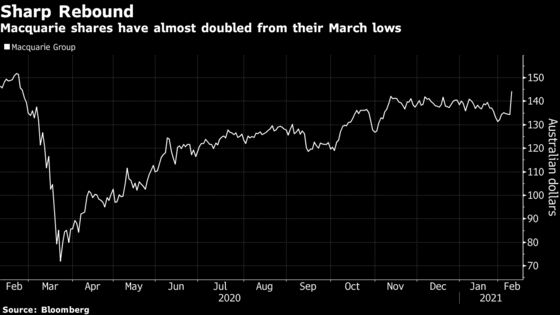 Wikramanayake said market conditions are likely to remain challenging and a range of factors, including the duration and severity of the Covid-19 pandemic, the level of government support for economies, and the uncertain speed of global recovery, could affect the result.
For more detail from the trading update, click here
Before today's trading update, Macquarie was expected to post profit of A$2.19 billion ($1.7 billion) in the 12 months to March 31, according to analyst estimates compiled by Bloomberg. Last year, net income fell 8% to A$2.73 billion, ending a seven-year run of earnings growth.
Analysts are now upgrading their forecasts. Goldman Sachs Group Inc. said Tuesday Macquarie's earnings will be flat to 5% lower for 2021 compared with a year ago -- significantly better than its previous expectation of a 23% decline.
"The better-than-anticipated performance appears to be largely, albeit not entirely, driven by better-than-expected trading conditions within" the commodities and global markets division, Goldman analysts led by Andrew Lyons said in a note to clients.
Roughly one-third of the profits are coming from the Sydney-based bank and asset manager's market-facing businesses, including commodities, lending, and investment-banking advisory services, with the rest attributed to its annuity-style businesses.
The investment-banking business, Macquarie Capital, is expected to be "significantly down" for the year, as tough market conditions continue to delay the completion of mergers and acquisitions despite an improvement in deal activity. Macquarie's commodities and global markets business is expected to benefit from increased volatility though, fueling greater hedging and trading from customers.
Macquarie, which agreed to buy Kansas City-based asset manager Waddell & Reed Financial Inc. for $1.7 billion in December, will continue to look for wealth management acquisition opportunities in the U.S. and Europe in the medium term, Wikramanayake said.