Cometh the Woman for Macquarie's New Era
(Bloomberg Opinion) -- It can be tough at the top.
Just ask Shemara Wikramanayake, the incoming chief executive officer of Macquarie Group Ltd. As head of its Macquarie Asset Management unit for the past decade, she was responsible for driving the infrastructure investments that fueled an eightfold increase in the Australian investment bank's share price since its March 2009 low. Having joined Macquarie in 1987, soon after it was founded, she's been spoken of as outgoing CEO Nicholas Moore's successor for several years.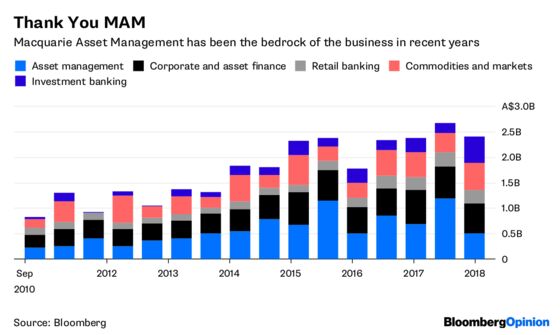 She's an exception in an industry that's still overwhelmingly dominated by white men. Among the 238 financial-services companies with at least $100 billion in total assets globally, just six others — Hang Seng Bank Ltd., ICICI Bank Ltd., Axis Bank Ltd., Swedbank AB, KeyCorp, and Bank Leumi Le-Israel BM — count women as chief executives, according to data compiled by Bloomberg.
In western countries, non-white finance bosses are equally scarce. Wikramanayake joins a select band of chief executives of color alongside Credit Suisse Group AG's Tidjane Thiam and TIAA's Roger Ferguson, and following in the footsteps of Deutsche Bank AG's Anshu Jain, American Express Co.'s Kenneth Chenault, Citigroup Inc.'s Vikram Pandit and Merrill Lynch & Co.'s Stanley O'Neal.
Her hardest challenge is the one ahead. Australian businesses whose lauded chief executives leave on a high note have a nasty habit of falling into discord soon after — just ask shareholders of Cimic Group Ltd. and WorleyParsons Ltd., the engineering companies whose stocks fell by about half in the three years after longstanding bosses quit in 2010 and 2012, or phone company Telstra Ltd. which is down by a similar amount since David Thodey left in 2015.
To be sure, Macquarie's profit machine — thanks in no small part to Wikramanayake's asset management business — is firing on all cylinders. The shares are only just below their record high of A$127.07 late last month. Relative to book value, they're at their best levels since before the 2008 financial crisis.
There are clouds on the horizon, for all that.
Macquarie's financial results in the year through March 2019 will be "broadly in line" with its most recent year, according to a presentation to Thursday's shareholder meeting at which Wikramanayake's succession was announced. That feels markedly weaker than the 11 percent improvement in net income that analysts were expecting, helping to account for the 2.8 percent fall in Macquarie shares on the news.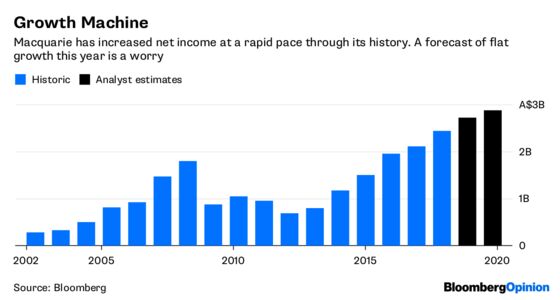 Base fees from asset management will continue to rise, but performance fees and investment-related income will be down, according to the presentation. That suggests a business whose organic growth is weakening. Its most recent half-year result, at A$496 million ($369 million) of net income, was the worst in five years.
There's a complex debate about exactly how much Macquarie should be worrying as the world moves to a higher-interest-rate environment. One argument says that rising yields will make the heavy debt load backing most infrastructure projects harder to bear, while earnings suffer from impairments as higher rates eat into the discounted cash-flow valuations of the assets. The other side points out that Macquarie's balance sheet is weighted toward safer long-term funding these days, and that the returns from infrastructure will rise too in the inflationary circumstances where yields are higher.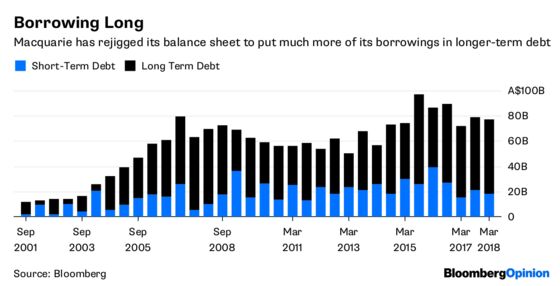 Anyone who thinks they know the answer to that problem should be wary. As Moore acknowledged in answer to an analyst's question on the subject at the company's annual results in May, "We are all speculating of course, because we are talking about a market that we are not in yet."
Indeed, the better weapon in Wikramanayake's armory may turn out to be elsewhere in the business. Macquarie's more volatile capital-markets units — commodities and fixed-income trading and investment-banking advice — have been overshadowed in the past decade by the stolid reliability of asset management and its annuity-style peers.
That made sense in an era characterized by low interest rates and even lower volatility, but those times may now be ending. With Saudi Arabia halting oil shipments through the Bab el-Mandeb straits in the southern Red Sea, the aluminum market thrown into turmoil by U.S. sanctions on United Co. Rusal, and trade war leaving U.S. soybean farmers unsure where they're going to place the next season's crop, there are plenty of reasons to think less certain times are ahead.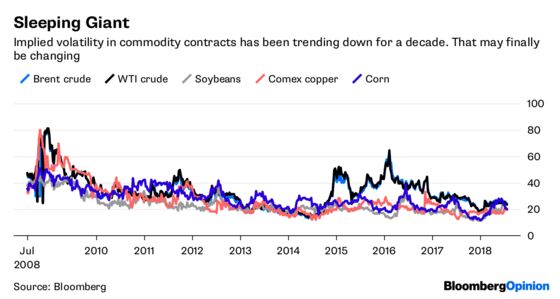 That shouldn't alarm Macquarie. For traders, volatility is a money-making opportunity more than a threat. Bankers have always known to buy when there's blood in the streets. Cometh the hour, cometh the woman.
This column does not necessarily reflect the opinion of the editorial board or Bloomberg LP and its owners.
David Fickling is a Bloomberg Opinion columnist covering commodities, as well as industrial and consumer companies. He has been a reporter for Bloomberg News, Dow Jones, the Wall Street Journal, the Financial Times and the Guardian.