Banking's Most Powerful Club Just Got a Shy New Member
(Bloomberg) -- The little-known Shemara Wikramanayake has just been catapulted into the ranks of the most powerful women in the global financial industry.
The publicity-shy 56-year-old was Thursday named the next chief executive officer of Macquarie Group Ltd., the Australian investment bank that has grown into the world's biggest manager of infrastructure assets, hoovering up everything from U.S. toll roads and European airports to London's Thames Water.
The three-decade company veteran will replace Nicholas Moore when he steps down Nov. 30 after leading the Sydney-based company through a 10-year unbroken run of profit, helping the shares surge more than 600 percent since the depths of the global financial crisis.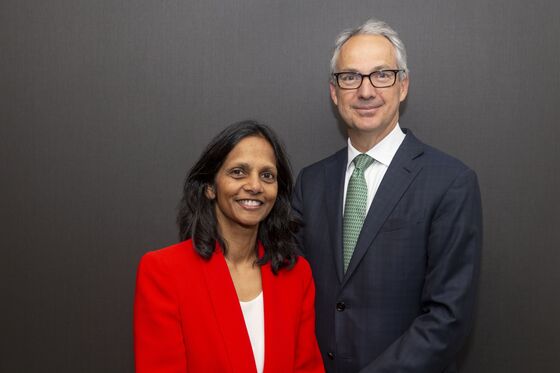 Wikramanayake, who turned the asset management unit into the group's most profitable and fastest growing division, will be tasked with continuing that success in the face of increased competition from the likes of Blackstone Group LP and other cashed up private equity firms for infrastructure assets, rising interest rates and the threat of a global trade war.
"I have the utmost respect for her," said David Sokulsky, who worked with Wikramanayake on a U.S. deal during a stint in Macquarie's New York office. "She was very genuine, always happy to listen to everyone whether they were on the lowest rung or the highest rung," said Sokulsky, who is now CEO of Concentrated Leaders Fund Ltd., a listed investment company which owns Macquarie shares.
"She expects a high degree of efficiency and deliverability. She's not soft, but the way she goes about it is the way I believe people should go about leadership and should go about running businesses," he said.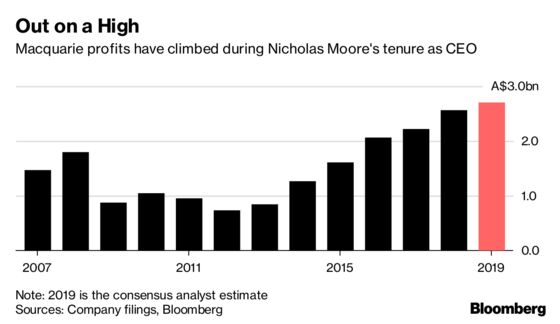 While rising through Macquarie's ranks to become Moore's heir-apparent, Wikramanayake has kept a deliberately low profile, granting just two media interviews in recent years. On a media call Thursday, she gave little suggestion that is set to change, saying the future success of the company is "in the hands and heads of our team."
"I describe it as leading without leaders," Wikramanayake said, when asked to describe her management style.
"The hard work starts now," she said in a later interview with Bloomberg. "I'm going to put my head down and dive into it," she added, saying she plans to travel widely to offices around the world and spend more time with the businesses she hasn't worked in previously.
She joins the likes of Abigail Johnson, CEO of Fidelity Investments, and Mary Callahan Erdoes, CEO of JPMorgan Asset Management Inc., as one of the most senior women in global finance.
Macquarie has a market capitalization of $30.7 billion, ranking it between the embattled Deutsche Bank AG ($25.1 billion) and Credit Suisse Group AG ($39.9 billion).
Wikramanayake has worked for Macquarie around the world, including establishing its U.S. and Canada infrastructure funds. She was appointed head of the global asset management division in 2008 when Moore took over as CEO.
Under her leadership, Macquarie Asset Management has become the company's fastest-growing and most successful division, managing A$495 billion of assets, with more than 1,600 staff in 23 countries. It delivered net income of A$1.7 billion in the fiscal year ended March 31, accounting for almost two-thirds of group profit.
While her ascension has been well flagged -- Morgan Stanley analysts described her as a "logical appointment" -- Macquarie shares fell 2.6 percent at the close of trade in Sydney. The stock has gained 22 percent this year, the best performance on the S&P/ASX Financials Index, and reached a record A$126.70 on June 28.
"Change brings uncertainty," said Sean Fenton, director at Sydney-based Tribeca Investment Partners. In the absence of any upgrade to profit forecasts at Thursday's annual shareholder meeting, it was "not surprising" there had been a small pullback in the share price, he said.
Though media-averse, Wikramanayake is better known among investors and analysts.
"We are very pleased to see Shemara's appointment," UBS Group AG analysts led by Jonathan Mott wrote in a note to clients. "We hold her in very high regard and believe she too has been fundamental in Macquarie's success."
Wikramanayake's Sri Lankan father was a doctor who worked in the U.K. before moving the family to Australia, according to an article in the Financial Times last year. She was educated at Ascham, an exclusive Sydney girls' school, then studied commerce and law at the University of New South Wales. She worked as a corporate lawyer before joining Macquarie in 1987, the FT said.
According to a 2016 profile in the Australian Financial Review's Boss magazine, she took a 12-month sabbatical from Macquarie in the early 2000s to consider whether to change course.
After setting up a charitable fund for children's education, traveling and doing some art courses, she returned to Macquarie.
"Luckily for Macquarie, I discovered I had no other talents and so I'm back here," she told the AFR. "What I found from that year off is I really love what I do."
While Wikramanayake said Thursday she had never experienced anything but a level playing field at Macquarie, she acknowledged the financial industry lacks female leaders and isn't attracting enough women. "We need to provide more flexibility," she said.
"We don't have too many women as CEOs of our large institutional banks," said Carol Schwartz, a member of the Reserve Bank of Australia policy-setting board and founder of the Women's Leadership Institute of Australia.
"That is significant and I think it's great for other women, not only at Macquarie Bank, to see that they can achieve the most senior roles, she said. "It's good for women executives generally to see that there are role models such as Shemara who work hard and who achieve the roles that they should be achieving."