Macau Casinos to Reopen After $186 Million Loss From Storm Halt
(Bloomberg) -- Macau, the world's largest gambling hub, will resume gaming Monday at all its casinos after Typhoon Mangkhut forced a 33-hour stoppage affecting major operators including Sands China Ltd. and Wynn Macau Ltd.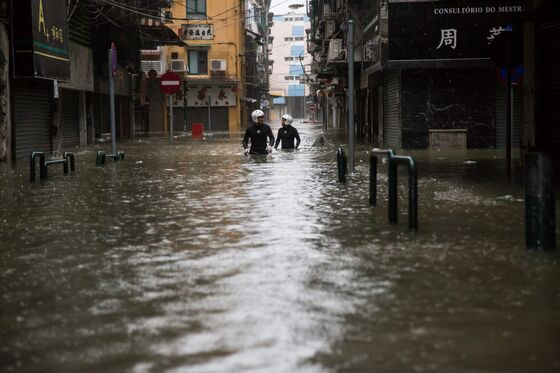 Casinos will reopen at 8 a.m. Monday, the government said in a statement, after being closed at 11 p.m. Saturday with the storm approaching. Industry employees said it was the first time Macau shut down gambling since licenses for casinos were given out in 2002.
It will take a day or so for traffic to return to normal given how many flights and ferries were canceled, said Grant Govertsen, analyst at Union Gaming Securities Asia Ltd., in a note.
"This robs the month of one important weekend day," which typically generate significantly higher gaming revenue than midweek days, he said.
The shutdown was the latest blow to Macau casino operators after a rebound for the industry that began more than two years ago. Investor worries are growing over a pullback in spending by big gamblers as China faces an economic slowdown and questions tied to the trade war with the U.S.
Govertsen said September's revenue growth rate could be affected by as much as 7 percentage points, almost cutting in half the firm's previous forecast of a 15 percent increase. It also may cut third-quarter revenue growth by 2 percentage points, to 12 percent, he said.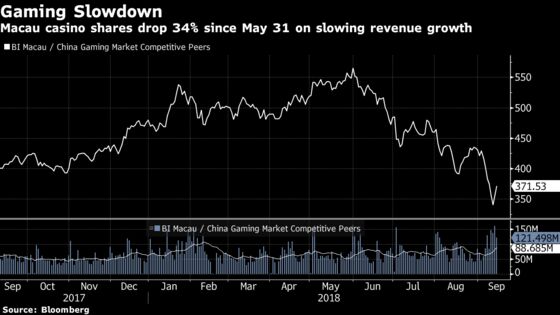 Ben Lee, a Macau-based managing partner at Asian gaming consultancy IGamiX, also expects to lower his outlook for the industry. He had previously projected year-over-year growth of about 10 percent for September. Lee said the decision to shut the casinos was the right choice to ensure employees' safety and noted that the industry is "still in positive growth territory."
Junket operators and other industry officials had expressed relief at the shutdown, praising the government's decision.
"This is the first time in Macau history that all casinos halted operations, to ensure the safety of employees," said Stephen Lau, president of Power Macao Gaming Association, an organization that represents casino workers. "We are seeing the government and casino operators no longer just put profit over the employees' interest."
The Bloomberg Intelligence index for Macau casinos is down 34 percent since the end of May, with MGM China Holdings Ltd. tumbling 45 percent while Wynn Macau and Melco Resorts & Entertainment Ltd. are both down 36 percent.
Casinos in Macau have had 25 straight months of growth, boosted by high rollers and the opening of flashy new resorts on the Cotai peninsula. Operations were disrupted last summer by Typhoon Hato, which caused 10 deaths, according to Xinhua. While casinos continued to operate during that storm, the government estimated the economic loss to Macau amounted to 12.6 billion patacas ($1.6 billion).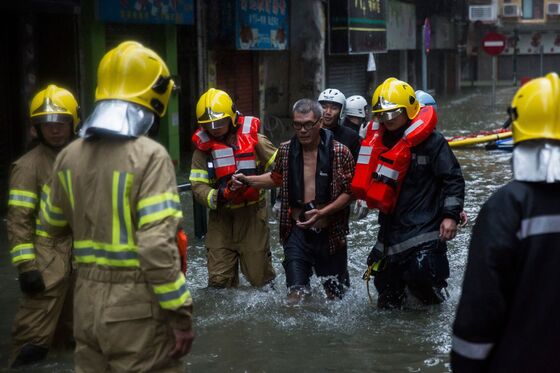 Casino stocks tumbled on Tuesday after Deutsche Bank lowered its forecast for revenue growth in Macau. It cut its 2019 outlook by more than half, to 4 percent growth from 11 percent previously, citing concerns about the VIP segment and saying Macau is at the start of a downward earnings revision cycle.
Morgan Stanley, however, wrote on Thursday that casino shares may be poised for a 50 percent rebound. Based on the last cycle that ended in July 2012, shares are set to recover on the back of improving earnings, it wrote in a note, helping a two-day rebound in the benchmark casino gauge.