Magnitude 6.9 Quake Hits Northeastern Japan, Shakes Tokyo
(Bloomberg) -- A magnitude 6.9 quake hit off the coast of northeastern Japan, briefly triggering a tsunami advisory for Miyagi prefecture and causing shaking in Tokyo.
Initial damage reported from the earthquake that occurred Saturday evening were minor compared to the magnitude 7.3 quake that struck about a month ago further south on Japan's Pacific coast. About 200 buildings in Miyagi prefecture were left without power, Tohoku Electric Power Co. said, while broadcaster NHK said some bullet train services in the region were suspended.
No abnormalities were reported at Fukushima's Dai-ichi and Dai-ni nuclear plants, according to Tokyo Electric Power Co. Tohoku Electric Power said no irregularities were reported at its Onagawa nuclear plant.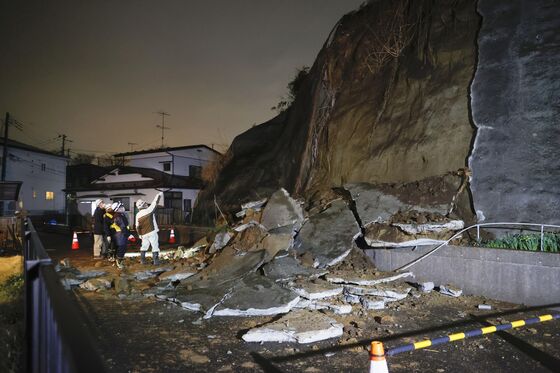 The quake hit at a depth of 59 kilometers (36.7 miles), JMA said, revising from an earlier estimate of 60 kilometers. The strongest shaking, at an upper 5 on Japan's scale of 7, was felt in Miyagi, and the tremor was also experienced in the capital.
It comes days after the 10-year anniversary of the earthquake and tsunami that struck the same region, which led to a meltdown at the Fukushima Dai-ichi nuclear plant and left about 19,000 people dead or missing. Last month's magnitude 7.3 quake struck off Fukushima prefecture, and was determined to be an aftershock of the 2011 earthquake.