M&A Monday, Dip Buying Distract From Tech Wreckage: Taking Stock
(Bloomberg) -- Stocks are taking a relatively modest hit on news that China scrapped talks with the U.S. just in time for tariffs from both sides to take effect. S&P futures are off lows and only down ~4 handles as the dip buyers reload, Europe's Stoxx 600 has fallen a paltry 0.2%, while several markets in Asia, including China, are closed for a holiday.
Aside from the trade wrinkle, the big news today is all about M&A, as we're just getting the Pandora/Sirius XM deal (valued at ~$3.5 billion) crossing the wires. This follows a big merger in the gold space between Barrick Gold and Randgold (values the latter at $5.4 billion), our scoop that Michael Kors is near a purchase of Versace (this one is looking at about $2 billion), and the ongoing Sky saga that has Comcast in the driver's seat.
Defensive Rotation Potential
If the pullback tied to the trade unease holds, you'd think the more defensive sectors in the market would catch a bid.
It was only a few weeks ago where the popular trade was to pile into the defensive-minded groups, like the utilities and REITs. But that rotation didn't last long, especially once the S&P 500 found its footing and bounced right back to a new record (almost immediately after the overhang of a new batch of tariffs was removed last week), while the move in the 10-year Treasury yield caused additional stress for holders of these rate-sensitive sectors.
In turn, the utilities and REITs are in the red for the month, but depending on how the market takes this latest trade war setback, it's possible that the underperformance could reverse. The ultimate deciding factor could be the trajectory of 10-year (still at Friday's high of ~3.08%) and whether the recent move to the upside has legs or if it might run out of steam.
Other sectors to watch today include the oil-exposed energy stocks as Brent crude breaks to a near four-year high after OPEC held output plans steady (suggested read is story on traders predicting return of $100 prices), gold producers on the Randgold/Barrick deal, and the casual dining restaurants on a big BMO downgrade (more on this below).
Brutal Month for Tech Longs
What's interesting is that you'd think tech, a leader in the nine-year bull market rally, would be a beneficiary of the broader indices hitting records and investors shying away from all things defensive. But that doesn't appear to be the case as of late.
Tech stocks as a whole have had a rough month (S15INFT -1.2%; note this isn't accounting for GICS reclassification), hence the Nasdaq being one-and-a-half percent away from breaking last month's peak versus the other major indices seemingly notching a new record every day. The underperformance is stark when considering what the other usual market leaders have done in September, like the industrials (S5INDU +3.8%) and the financials (S5FINL +1.8%).
The weakness in early September is tied to two separate events that may have made it tougher to get comfortable investing in the space in the near term:
Grilled on Capitol Hill -- Regulatory concerns for the country's biggest Internet and social media companies have been rising for a while now, but it wasn't until Twitter CEO Jack Dorsey and Facebook COO Sheryl Sandberg went before Congress for a proper grilling that the stocks of these bellwethers came under immense pressure. Twitter has sank 19% just this month (the worst performer in the entire S&P 500), Facebook fell more than 7% (and back to eyeing its Cambridge Analytica lows from mid-March), and both Alphabet and Amazon declined almost 5%. More scrutiny is on the table this week when several of the names mentioned above, as well as Apple and AT&T, testify at a Senate committee hearing on safeguards for consumer data privacy.
A flash warning -- KLA-Tencor's cautious comments at a conference earlier this month, which came weeks after a disappointing sales forecast from peer Applied Materials, set off a bout of selling in the semiconductors that spilled over into the rest of the tech arena. Since then, we've also had poorly-received results from cloud name Red Hat and chip stock Micron. These alarming developments may be setting a more somber tone for the group as we're just weeks away from the kickoff to another earnings season.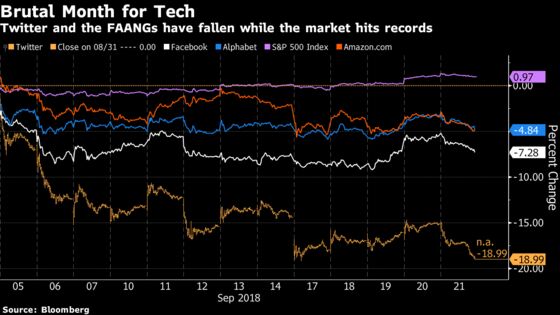 Here's some stuff you might have missed since Friday's close:
Trump was abnormally quiet over Twitter despite the reports that talks with China are off the table, the Kavanaugh saga is getting murkier by the second with Ronan Farrow and Michael Avenatti now involved (odds of Kavanaugh becoming the next SCOTUS justice aren't good if you go by PredictIt's site), more of the mainstream media is comparing the pot stocks mania to the dot com days and the crypto craze, the Barron's cover story is about gold and how the out-of-favor asset class deserves a spot in investment portfolios (timely with the Denver Gold Forum kicking off this weekend in Colorado Springs), Suvretta Capital thinks pharma giant Merck may wind up in the cross-hairs of an activist (scoop by Institutional Investor), Weight Watchers is reportedly changing its name to WW, the New York Times profiled the "most prominent lawyer in America" (see Businessweek's feature on David Boies from last December), Tiger Woods is officially back, Syracuse football is 4-0 for the first time since 1991 while the Nebraska Cornhuskers are 0-3 for the first time since 1945, and survivor pools got annihilated after the 17-point underdog Bills almost blanked the Vikings for the biggest NFL upset since 1995 (hat tip to Sports Illustrated for that factoid).
Notes From the Sell Side
BMO turns more cautious on casual dining on a deceleration of industry same store sales and traffic trends starting in the fourth quarter. The analyst downgrades Brinker, Texas Roadhouse, Darden, and Chuy's all to underperform and Bloomin' Brands to a market perform.
Some positive notes in the semiconductors space, with 1) RBC initiating AMD with an outperform and a price target of $40, matching the Street high, on solid server share gains, continued demand for gaming chips, and notable operating margin leverage, and 2) New Street Research upgrading ASML to a buy as concerns across the industry are likely to have a limited impact on the company.
Takeaways from the recent iPhone launch are coming in on the positive end. RBC says this year's carrier promotions appear more attractive versus the iPhone X cycle, which should enable healthy unit growth for Apple on top of ASP uptick. Citi reiterated its buy on Apple after being surprised by its visits to several stores, previously expecting a lukewarm reception but instead finding that customers are picking up pre-ordered iPhone XS Max's with 512GB memory despite subscribing to iCloud.
UBS initiates Caesars Entertainment with a sell and a Street-low price target of $9 as Ebitda growth is at risk given the more challenging competitive environment in Las Vegas. Shares are down almost 3% pre-market so far.
Tick-by-Tick Guide to Today's Actionable Events
Today -- Microsoft Ignite five-day event kicks off
Today -- World Conference on Lung Cancer (WCLC) with data from SPPI, INCY, SNDX, PFE, MRK, BMY
Today -- IPO lockup expiry for BILI, GHG, FIXX, OPBK
8:00am -- NITE R&D day
8:30am -- Chicago Fed
9:00am -- ECB's Draghi speaks in Brussels
10:00am -- ABMD investor breakfast
10:30am -- Dallas Fed
11:40am -- DISH CEO Erik Carlson on Bloomberg TV
12:00pm -- BSX update at TCT event
1:15pm -- DVA CEO Kent Thiry on Bloomberg TV
2:00pm -- MDT update at TCT event
4:05pm -- ASNA earnings
4:15pm -- APPN CEO Matthew Calkins on Bloomberg TV
8:15pm -- Steelers at Buccaneers (-1)
Tonight -- IPO expected to price: Vioma Technology (VIOT)