M&A Master Reveals Amazement at His $4.1 Billion Pandemic Deal
(Bloomberg) -- The chief executive of one of the world's most acquisitive transport companies says he's personally amazed he could strike a major deal during the pandemic, after years of relying on eye-contact and handshakes to establish trust.
Denmark's DSV Panalpina A/S agreed this week to buy Kuwaiti logistics company GIL for $4.1 billion after negotiations that were "short, intensive and, of course, virtual," CEO Jens Bjorn Andersen said in an interview.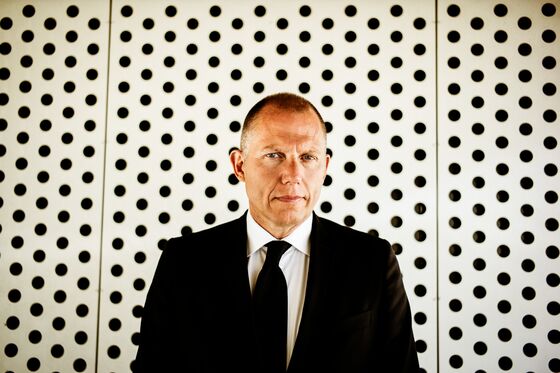 The deal -- the largest for a controlling stake in a Middle Eastern business by a foreign company in two years -- is the latest in a string of major takeovers that have turned an obscure little Danish company into the world's third-largest freight forwarder. It's also the first time DSV's CEO has embarked on such an undertaking without sitting in the same room as the people with whom he was negotiating. They were more than 4,000 kilometers (2,500 miles) away.
"Five years ago, I would never have thought a deal could be concluded this way," Andersen said. "I would have said: No way, you need to look the other party in the eye, you need to shake their hand, you need to read their body language. But these were the cards we'd been dealt, and then you have to decide if you want to play or not."
In the end, Andersen says the need to rely on virtual meetings potentially even sped up the process.
"There are actually some advantages," he said. "You can very quickly set up a meeting with people from across the world. It's very effective to set things up with just a few hours' notice, instead of traveling half way around the world first."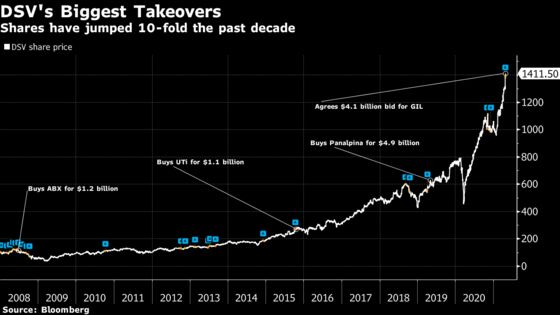 DSV's business model relies on growth through acquisitions, and it prefers big deals to small ones. Between takeovers, Andersen tries to build sources in his industry. That's how he got to know the management team at GIL's parent, Agility Public Warehousing Co. Another DSV trademark is that it tends not to rely much on investment bankers when it approaches a takeover, preferring to thrash out the details in-house.
"When it comes to M&A," DSV has a "very positive reputation," said Frans Hoyer, a transport analyst at Handelsbanken. The company has "the advantages of scale and a high level of profitability. These elements enable the company to grow through acquisitions, in a profitable way."
Once DSV has finished absorbing GIL, it will start looking for a new target. The freight-forwarding industry remains highly fragmented; the top 20 players hold only 30-40% of the total $500 billion market, leaving plenty of room for consolidation. The two biggest companies are Deutsche Post AG's DHL and Kuehne + Nagel International AG.
What Bloomberg Intelligence Says...

"DSV's technology may not be the most advanced among freight forwarding peers, but it's proven to be extremely scalable. Scalability of its IT systems, infrastructure and back-office functions has been a key component of its successful track record as an industry consolidator. This has fueled its ability to quickly integrate and drive efficiencies in acquired companies."

-- Adam Roszkowski, Transportation & Logistics analyst
Tarek Sultan, the CEO of Agility, said the two sides were able to conclude the deal because global supply chain companies "are adept at conducting business remotely." He also said there was "a pre-existing rapport and level of trust between the management teams."
DSV expects to have finished integrating GIL by the end of next year. When it starts looking for a new acquisition target, Andersen says he still hopes he'll be able to return to in-person deal-making for his next takeover.