Lyft Starts California Car-Rental Service in Blow to Hertz, Avis
(Bloomberg) -- Lyft Inc., whose ride-hailing service has been a frenemy of car-rental companies, just got a little less friendly with the likes of Hertz Global Holdings Inc. and Avis Budget Group Inc.
Lyft said Thursday it's testing out a car-rental service in Los Angeles and San Francisco and offering unlimited miles as an inducement. The announcement did little for its stock but sent Hertz and Avis shares plunging.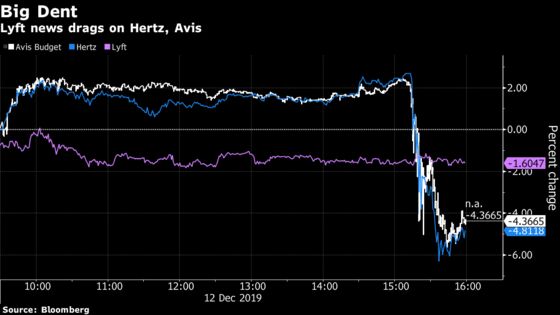 While the rise of Lyft and Uber Technologies Inc. raised existential questions for more than century-old rental companies like Hertz and Avis several years ago, both companies have benefited recently by making their cars available to drivers that the ride-hailing services must keep adding to help support their growth. Avis even forged formal partnership with Uber in early 2017 and Lyft last year.
Hertz and Avis can breathe easily for a while, said Hamzah Mazari, a Jefferies analyst who rates Avis a buy and Hertz a hold. Building up a big network of cars and rental lots is expensive, and Lyft doesn't have the balance sheet to do it quickly.
"I think the reaction is overblown," Mazari said by phone. "Lyft doesn't have a whole lot of capital so they won't be able to take this nationwide. They are capital constrained, so I'm not too worried about it."
Representatives for Hertz and Avis didn't immediately respond to requests for comment. The two erased gains following Lyft's announcement, with Hertz ending the day down 4.8% and Avis dropping 4.4%.
Lyft Rentals is a limited experiment that may change, according to the San Francisco-based company's website. The smartphone app-based service won't require a stop at a rental counter and will charge market rates for gasoline. Lyft also is offering $20 credits for transport to rental cars and discounts for Monday-through-Thursday use.