Lyft's Hedge Fund Bulls Hold the Keys to Massive Short Selling
(Bloomberg) -- Shorting shares of Lyft Inc. has become so popular that brokers have adopted an unusual practice made infamous during the 2008 financial crisis. The risky transactions, known as rehypothecation, can last for as long as certain hedge funds remain bullish, according to an analyst who specializes in short interest.
Short interest in the No. 2 ride-hailing company has risen to 27 million shares, according to financial analytics firm S3 Partners, while Lyft's public float is about 33 million shares in total. That's only possible with a significant amount of rehypothecation -- or re-lending -- happening at prime brokers, said S3 research head Ihor Dusaniwsky.
"Rehypothecation is higher because there is a strong demand to short Lyft shares," Dusaniwsky said in an interview. "There is not a ton of supply in lending programs and there are long hedge fund shareholders which have shares to rehypothecate."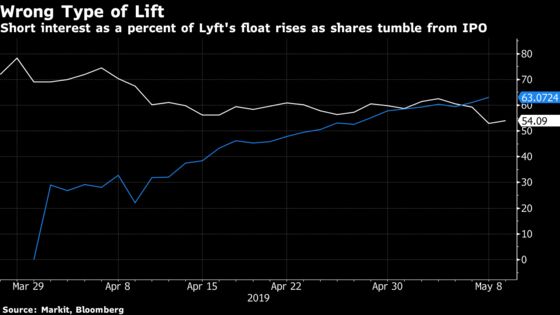 More common in ETFs than stocks and more restricted since the 2008 financial crisis, rehypothecation is a process where banks borrow a security and then lend it back out to other short sellers -- possibly several times over. For traders, this means Lyft's short sellers face a higher recall risk. Hedge funds that have been buying these shares and then lending them to prime brokers could spark a chain reaction of recalls if they turn bearish and decide to sell.
Short sellers are paying an annual interest rate of 14% to short Lyft, according to S3 data, the highest price since the volatile days that immediately followed the company's initial public offering. The spike comes just one day before Uber Technologies Inc. makes its stock market debut and two days after Lyft's forecast signaled no end to its spending spree. Lyft shares rose as much as 3.8% on Thursday, but remain about 24% below the March 28 IPO price.