LVMH's Sales Fail to Convince the Luxury Bears: Street Wrap
(Bloomberg) -- A bearish Morgan Stanley note on prospects for luxury-goods stocks spoiled the day for LVMH, pushing the shares to a six-month low even after the Louis Vuitton owner reported third-quarter fashion and leather-goods sales that were hailed as strong by analysts.
The stock slid as much as 5.2 percent in Paris, while shares in rivals Kering SA, Hermes International and Moncler SpA also tumbled. The luxury sector has slumped over the past week on concerns about a customs crackdown on undeclared imports in China, with a Gucci video adding to jitters over demand for items among millennial customers.
LVMH's 11 percent stock decline in the past month is the steepest monthly drop since August 2015, coming after China's biggest devaluation in two decades. Investors are seeking excuses to lock in profits ahead of an uncertain fourth quarter, according to RBC Capital Markets' Rogerio Fujimori and other analysts.
The luxury sector "looks stretched on a number of our indicators even after the recent correction," Morgan Stanley analysts led by Krupa Patel wrote in a note, downgrading the sub-group to underweight from neutral.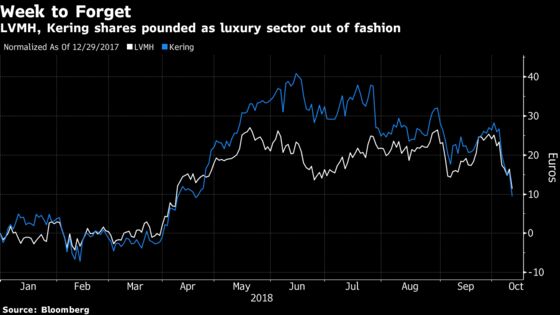 Below is a round-up of comments on LVMH's quarterly sales. Most analysts noted that the company's conference call, scheduled for later today, will be key to assessing the latest trends in demand from customers in China and other countries, as well as how LVMH performed during the Golden Week holiday.
Bryan Garnier, Loic Morvan (Buy)
3Q performance of fashion & leather-goods was reassuring, with 14% organic sales growth at the division versus consensus of 12%. Dior Couture was included for the first time in the organic performance and probably helped given the brand's strong momentum.
3Q sales imply a very slight deceleration versus 2Q; scope and FX effects were virtually neutral
The watches & jewelry division achieved a strong 3Q with a 10% sales increase, mainly driven by Bulgari, which gained some market share
Co. hasn't yet disclosed performance by region: Morvan anticipates a strong 3Q performance from Japan (7% of sales) and in the U.S. (25% of sales), while Europe is likely to have remained subdued, as was the case in 1H. In APAC (29% of sales), sales momentum likely remained robust.
Kepler Cheuvreux, Aurelie Husson-Dumoutier (Buy)
This first release of 3Q luxury numbers will partly remove the veil of uncertainty about slowing Chinese demand that had been hanging over the sector. Golden Week 2018 data augurs well for 4Q.
Some slowdown in 3Q organic growth was expected, as the comparison base over two years was becoming more challenging. So almost no slowdown in 3Q versus 1H in fashion & leather shows again that LVMH is maintaining its momentum thanks to the strengths of its brands.
With leading positions in almost all segments, LVMH has the most efficient brand portfolio in the luxury-goods universe.
Raymond James, Hermine de Bentzmann (Outperform)
The strong 3Q sales growth has so far revealed no change in terms of the solid momentum in demand for luxury goods, and de Bentzmann is reassured by the significant growth in almost all divisions