Luxury Stocks Resume Slide as 'Third Phase of Slowdown' Starts
(Bloomberg) -- Shares of Moncler SpA, Tod's SpA and other European luxury stocks dropped as Societe Generale SA analysts flagged a succession of "negative signals" from high-spending consumers in that region, the Middle East, China and Japan that could trigger sales and profit downgrades.
Moncler was the worst-performing clothier on the Stoxx 600 Personal & Household Goods index, trading down 2.7 percent at 3 p.m. in Milan, while Tod's fell 4.1 percent to its lowest level since August 2009, based on closing prices. Swatch Group AG lost 2.3 percent in Zurich, while Kering SA, LVMH Moet Hennessy Louis Vuitton SE, Hermes International and Burberry Group Plc were were down at least 1 percent.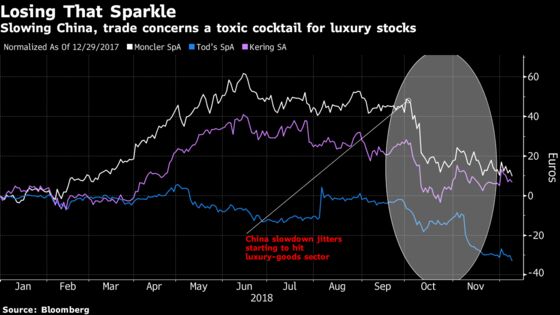 "The third phase of a sector slowdown scenario has just started," Thierry Cota and Antoine Riou, analysts at Societe Generale in Paris, wrote in a report to clients. "We should only get a sense of the scale of the downcycle by mid-2019. So, when do we move back in? Not anytime soon."
Concerns about a potential slowdown in demand from affluent Chinese millennials -- a key engine of growth for the makers of designer clothes, pricey handbags, jewelry and watches -- have been pushing luxury stocks lower since early October. Goldman Sachs Group Inc. analysts in a separate note cut their price estimates on stocks including Kering, LVMH, Swatch and Tod's.
Luxury-industry revenue is likely to grow 5 percent in 2019, slowing from growth exceeding 10 percent this year, the Goldman Sachs analysts wrote, scrapping a previous prediction of a 7 percent gain for next year. Travel-related demand "looks more vulnerable," and more recent commentary from companies "highlights a deterioration in November: this is important, given the proximity to Christmas and the Chinese New Year holiday periods," they said.
"Luxury-goods demand is dependent on the feel-good factor," the Goldman analysts said. "Our key concern with regard to the short-term outlook is that spending is postponed, rather than canceled."
Sales of luxury items are facing particular disruption in France because of the recent Yellow Vest protests that led to store shutdowns Saturday in central parts of Paris. The country's finance minister dubbed the riots "a catastrophe" for the economy and retailers. Tourism in the capital, an important source of revenue for companies including Hermes, also has slumped.