Luxury in Doldrums While Dettol and Takeout Boom: Earnings Wrap
(Bloomberg) -- Sales of cleaning products and takeout food surged last quarter in the coronavirus pandemic, while the luxury industry suffered from shops being shut down and worries about the economic outlook curtailing consumer spending on high-end goods.
As the busiest week for European earnings got under way, Reckitt Benckiser Group Plc, the maker of Dettol and Lysol, was boosted by rising demand for disinfectants and wipes, though it tempered its outlook for the second half. Delivery Hero SE raised its full-year guidance as orders for home food delivery jumped.
French luxury giant LVMH -- owner of the Louis Vuitton and Christian Dior brands -- reported profit that missed analysts' estimates even as sales in China rebounded. Moncler SpA, known for its puffy ski jackets, also fell short of forecasts.
Defying the gloom in the automotive sector, Peugeot maker PSA Group stuck to its financial guidance and surpassed estimates for revenue and profit. Tiremaker Michelin said European sales are bouncing back now that lockdown measures have been lifted, but that the outlook remains "very uncertain."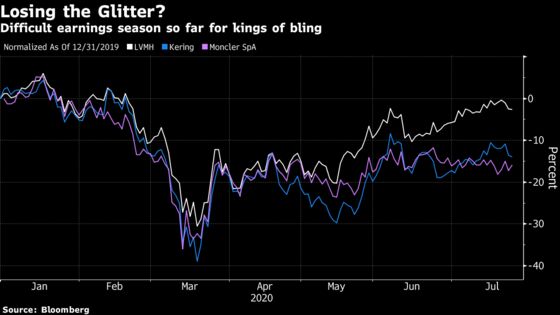 The earnings season has been good enough so far to underpin the rally in European stocks from the lows hit in March after the full impact of the pandemic became clear. Since then, the Stoxx 600 Europe Index is up 31%.
Clearing a Low Bar May Not Prove a Market Booster: Taking Stock
European earnings are off to a "strong start," Morgan Stanley strategists said in a report Monday, with the breadth of companies beating estimates "very good" and suggesting that the consensus for the second quarter may be too low. As yet, however, analysts haven't meaningfully increased their estimates, they said.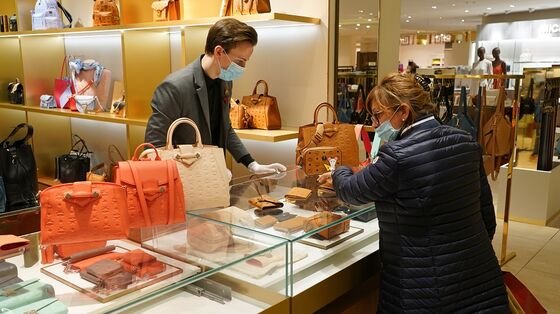 European stocks rose with the Stoxx 600 up 0.5%, boosted by gains for real estate and banks stocks offsetting declines for miners
LVMH Profit Misses Estimates as Virus Erodes Luxury Demand (2)
Peugeot Maker PSA Sticks to Financial Outlook Despite Virus Drag
Spain Angered by U.K. Curbs; Beijing Reports Case: Virus Update
Here's the top virus-related earnings news for today by sector.
France's PSA, the producer of Peugeot, Citroen and Opel cars, reiterated its financial outlook after generating a profit during the first half of the year, suggesting the French automaker has weathered the coronavirus pandemic better than feared. The company posted net income of 595 million euros ($698 million) even as lockdowns hammered vehicle deliveries in some of its biggest markets. CEO Carlos Tavares said he expects a significant sales rebound in the second half of the year. Peugeot shares bounced as much as 5.6% and analysts said the performance was "impressive."
French tiremaker Michelin's first-half operating profit came in at the top end of estimates, with the group saying its sales in Europe are "quite good" now that lockdown measures have been removed, but that the outlook remains "very uncertain." Analysts said the cautious outlook is likely to overshadow a solid beat on earnings. The stock swung between gains and losses, falling as much as 0.6%.
Reckitt Benckiser, the maker of Dettol and Lysol surface wipes and sanitizers, said its outlook has been boosted by strong demand for its hygiene products, although its profitability is expected to be in line with expectations due to the majority of the company's investments taking place in the second half of the year. Its hygiene division grew 19% in the second quarter, far outpacing setbacks in its sexual health and infant nutrition products. Morgan Stanley said the second-quarter was "very strong," but cut its estimates on a tempered outlook. The stock fell as much as 1.8%.
LVMH's first-half profit fell more than forecast, hit by customers pulling back on buying luxury goods at a faster pace than the Louis Vuitton owner can cut costs. Organic revenue fell by 38% in the second quarter compared with a 29% decline in operating costs. Analysts called the results a "complex cocktail" of good and bad news and the shares fell as much as 5.1%.
Moncler's first-half revenue also missed estimates, with a big drop in sales in Italy offset by an improvement in mainland China and online. Analysts said the second half is more relevant for the maker of puffer jackets and its stock dropped as much as 5.5%.
Online food-delivery platform Delivery Hero raised its full-year revenue forecast as it reported second-quarter order volumes nearly doubled. It said order growth is back on track after an initial decline between March and May, with orders in June breaking its monthly record. The update showed strong growth has continued for the firm, analysts said, and its shares rose as much as 4.9%.
Chip-equipment maker BE Semiconductor Industries NV said it is "cautiously optimistic" on the outlook for the second half after a better-than-expected first half. The stock rose as much as 6.7% and Kempen said the figures are "very strong."
Price comparison site Moneysupermarket.com Group Plc said profit dropped 14% in the first half. The company said it's likely to face greater earnings pressure in the second half given the strong first-quarter performance and the phasing of costs through the year. The shares rose as much as 2.8% and on balance were better than anticipated, Peel Hunt said.
U.K. bakery chain Greggs Plc swung to a pretax loss in the first half after company-owned comparable sales fell 49% for the period. The sales trend has been encouraging since shops reopened, with the latest week reaching 72% of the 2019 level, the company said. Analysts said the recent sales trends look better, but the stock fell as much as 3.6%.
Miniatures retailer Games Workshop Group Plc said its full-year pretax profit grew 10% and most of its business is now recovering from the virus disruption. The stock jumped as much as 9.8% to a new record high and Peel Hunt said that while the valuation on the stock is "punchy," it has clear, very strong momentum.
Discount retailer B&M European Value Retail SA expects its first-half earnings to significantly outpace consensus estimates. The stock surged as much as 8.5% in London with analysts saying the earnings were much stronger than expected and it benefited from being designated as a food retailer, allowing it to stay open during lockdown.
Italian spirits firm Davide Campari-Milano NV's first-half sales beat estimates, driven by strong demand for its Aperol and Campari brands. The stock bounced after the update, rising as much as 5.1%.
Soft-drink maker AG Barr Plc said it saw considerable shifts in trading patterns across its key end markets during lockdown. It expects sales to the hospitality and on-the-go segments to improve as restrictions continue to ease. The stock rose as much as 2.1%. with Liberum saying the update shows resilience.
Aeroports de Paris, the operator of Paris's airports, said air traffic won't recover at those hubs until 2024 to 2027, with international passengers taking the longest time to return. Domestic traffic is forecast to return to normal next year, the company said. ADP will reduce investment and put planned new projects on hold, the company said as it reported a 47% plunge in first-half revenue and a 95% drop in profit. The stock fell as much as 6.2%.
Dutch lender ING Groep NV said it will book an impairment of about 300 million euros in its second-quarter results related to Covid-19. It said the impairment will not impact its capital ratios. Its shares fell as much as 0.9% in Amsterdam.
Spain's Bankia SA said it will book a 185-million euro virus-related impairment in the second quarter, as its net income for the period topped estimates. CEO Jose Sevilla said he expects provisions in the second half to be similar to those in the first six months. The stock rose as much as 3.9%.
Virgin Money U.K. Plc said trading in the first nine months of its fiscal year has been in line with its expectations and it has not yet seen any significant credit losses. The shares rose as much as 2.9% in London.
St James's Place Plc said it foresees an influx of client cash in the fourth quarter, with "major net inflows" for 2020 as the U.K. economy picks up following the summer vacation season. The U.K. wealth manager said investors added 4.5 billion pounds ($5.8 billion) to its funds in the first half, slightly above the consensus analyst estimate. The shares rose as much as 2.4% and RBC said the performance is impressive against the very tough backdrop.
Electrical equipment supplier Rexel SA continued to withhold providing any guidance, saying that visibility for the rest of 2020 and into 2021 remains low. It said sales fell around 19% in the second quarter, though it has seen a gradual improvement in trading. The stock sank as much as 6.2%.
Packaging firm SIG Combibloc Group AG cut its full-year sales forecast, saying the first half was helped by supply chain stock-building which is likely to unwind as the year progresses. The stock dropped as much as 5.2% and Citi said that while the first half was strong, the outlook is more cautious.
Ahlstrom-Munksjo Oyj, the Finnish maker of filtration materials and industrial papers, missed the lowest analyst estimate for second-quarter revenue on weaker demand from home builders, furniture and transportation companies. That decline wasn't offset by growth in healthcare and life-science products including face masks. The shares fell as much as 8%.
U.K. builders' merchant Travis Perkins Plc said its second-quarter sales slumped by about 35%, hit by challenging conditions in new build and commercial construction end markets. It said it has seen a solid recovery since June. The shares rose as much as 5.2%. Analysts said recent trading trends are encouraging.
Lubricants manufacturer Fuchs Petrolub SE said it expects its full-year earnings to fall by around a quarter. The firm said it still cannot reliably estimate the full effect of the virus on supply chains and demand. The stock fell as much as 5.2% and Commerzbank said the update was weaker than expected.
London-listed miner Fresnillo Plc cut its projections for capital expenditure and exploration spending, while reiterating its revised production guidance, after the company's open-pit gold mines were shuttered for six weeks by the coronavirus pandemic. Still, higher metal prices and lower costs boosted first-half operating earnings at the Mexican silver and gold miner. The stock fell as much as 4.5%, down with other gold miners.
Endesa SA's first-half income missed estimates, but the Spanish electricity group maintained its guidance, saying that the majority of any virus impact on the business would be in the first half, with little effect seen in the second half. The stock rose as much as 2% in Madrid and RBC said the numbers look strong thanks to good margins in its electricity and gas arms.
London-focused estate agent Foxtons Group Plc said lettings and mortgage broking revenue fell in the first half of the year as branches were shuttered. The firm has seen a recovery since reopening its locations in June, though commissions were still down versus the same period in 2019. The stock rose as much as 4.6%.