Lundbeck Says It Won't Need a Big Buy After Trial Failure
(Bloomberg) -- H. Lundbeck A/S has an early answer for those wondering how it will ever plug the future sales hole that emerged when its once-promising schizophrenia drug failed a key trial.
"We do not feel pressured into doing things that we don't think are good business deals," Anders Pedersen, executive vice president of research and development for the Danish company, said in a phone interview Friday. "This is not a situation where we are forced into a buying situation."
The investing world may beg to differ, according to several industry analysts. Traders dealt a blow to the Copenhagen-based company after its announcement late Thursday that its most-advanced experimental drug -- the compound Lu AF35700 -- wasn't any better than conventional therapy for patients with treatment-resistant forms of the disease. The company's worst sell-off ever erased about $4 billion in market value and has raised questions about Lundbeck's future.
The selling continued Friday, with Lundbeck shares down as much as 8 percent in Copenhagen on top of Thursday's 27 percent decline.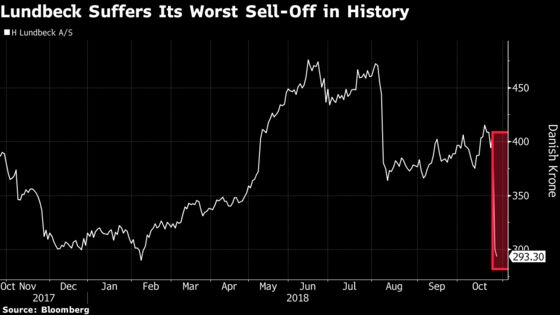 "Lundbeck now looks set to be forced to go out and make acquisitions to avoid becoming a company that has a shrinking top line," Nikolaj Holmsgaard, an equity sales trader at ABG Sundal Collier, said by phone. "That's really not a situation Lundbeck would want to be in."
For now, Lundbeck is still analyzing the new data and trying to figure out if its once-cherished experimental molecule is, in fact, "dead," according to Pedersen. Because it has antipsychotic properties and was well-tolerated in trials, there's a chance it may someday benefit other types of schizophrenia patients -- or even people with other disease areas, Pedersen said.
Lundbeck didn't expect to see sales from the treatment until 2022, which gives it time to accelerate and advance its "very rich early pipeline" of other treatments, Pedersen said.
Even so, the gloomy news came at a bad time for the company. Its top-selling treatment, seizure medicine Onfi, is facing new competition from cheaper generics. That drug's projected third-quarter sales of $143 million will probably plunge to $86 million in the fourth quarter, according to the average of analyst estimates compiled by Bloomberg.
The failure is disappointing because the experimental schizophrenia treatment had the potential to lead to "highly profitable blockbuster sales," Jefferies analysts led by Peter Welford said in note Thursday.
Analysts at Sydbank agreed, saying Lundbeck's announcement was "very negative" given investors' expectations that the treatment had blockbuster potential.
Of the 19 equity analysts covering Lundbeck and providing their data to Bloomberg, none is advising clients to buy the stock.
This "only adds to uncertainty over the strength of the drugmaker's pipeline," Bloomberg Intelligence analyst Michael Shah said in a report. "As the only novel late-stage pipeline asset, deals are needed to secure long-term growth amid generic-drug headwinds," Shah said.