Lundbeck Plunges 30% After Key Drug Fails in Schizophrenia Trial
(Bloomberg) -- H. Lundbeck A/S fell the most ever after the failure of an experimental drug for schizophrenia in a trial left the Danish drugmaker more exposed to its biggest medicine's loss of patent protection later this year.
Shares in the Copenhagen-based company plunged 30 percent after it said the compound wasn't any better than conventional therapy for patients with treatment-resistant schizophrenia. Lundbeck said it's still analyzing the data.
The experimental therapy had been the only significant hope in Lundbeck's portfolio of potential new medicines. The company needs new drugs soon: Sales of its best-selling treatment, the seizure medicine Onfi, will probably plummet due to competition from cheaper generics in the fourth quarter.
The "outlook from here is bleak," Wimal Kapadia, a London-based analyst with Sanford C. Bernstein & Co., wrote in a note. Without the new schizophrenia drug, Lundbeck is facing "a pretty meager revenue-growth profile."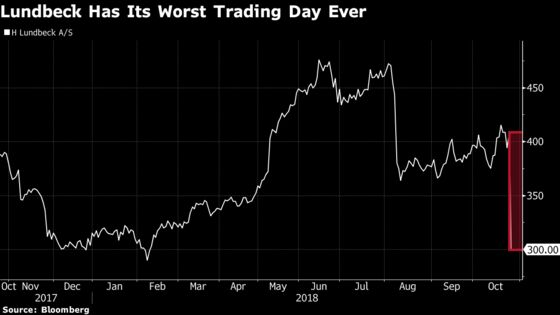 The trial had tested two different doses of the Lu AF35700 compound, compared with either of the older drugs risperidone or olanzapine, in almost 1,000 people. Patients who enrolled in the study had already tried at least two different antipsychotic drugs.
"This is a setback for patients with schizophrenia, but we will continue to advance our pipeline of innovative therapies to meet the needs of patients suffering from psychiatric and neurological diseases," Executive Vice President Anders Gersel Pedersen said in a statement.
The experimental schizophrenia compound was Lundbeck's only original experimental treatment close to reaching the market, according to Michael Shah, a London-based analyst with Bloomberg Intelligence. The company now will probably need to make deals to ensure its long-term growth, Shah wrote in a note.