Lululemon Slips as Pandemic Erodes In-Store Sales
(Bloomberg) -- Lululemon Athletica Inc.'s latest quarterly report shows shoppers are still hesitant to go back to stores, tempering investor enthusiasm despite projections of brisk revenue growth this year from the luxury yogawear brand.
The company issued guidance for the first time since the start of the pandemic. Revenue is seen at $1.1 billion to $1.13 billion in the current quarter and $5.55 billion to $5.65 billion the current fiscal year -- higher than estimates compiled by Bloomberg. The company's outlook for full-year profit, however, is below expectations.
Meanwhile, the key measure of total comparable sales -- which includes the fast-growing e-commerce channel -- rose 20% in the fourth quarter -- exceeding estimates.
Meeting investor expectations as the world economy sputters toward reopening won't be easy. Shoppers have favored comfortable attire for a year now, but formal apparel may soon rebound as workers return to offices. The company's guidance, however, indicates Lululemon doesn't expect to lose any momentum.
Lululemon has hundreds of brick-and-mortar stores that have been hurt by the pandemic. The 29% decline for same-store sales at physical locations was higher than Consensus Metrix estimates, and shows that many shoppers are still staying home.
Pre-pandemic, the company said it would boost sales by attracting shoppers to stores via events and classes. Chief Executive Officer Calvin McDonald said on a conference call that the company still plans to open 40 to 50 stores this year, including as many as 20 in China.
The company is upbeat about Mirror, the in-home fitness startup it acquired last year, and plans to invest in order to triple the amount of live classes on the platform by the end of the year. It will also bring the service to Canada.
Lululemon's investment to improve its online business paid off during the holidays, as e-commerce revenue in the quarter soared 92% in constant-currency terms, similar to the 93% increase the previous quarter. The company said it reached its e-commerce goals of doubling revenue from 2018 three years earlier than anticipated. It's now planning to test same-day delivery in nine markets.
The company has been impacted by the port and container hurdles that are currently roiling global trade and is airlifting some products to meet demand. This costlier shipping method dented profit margins and will continue to this quarter, Chief Financial Officer Meghan Frank said.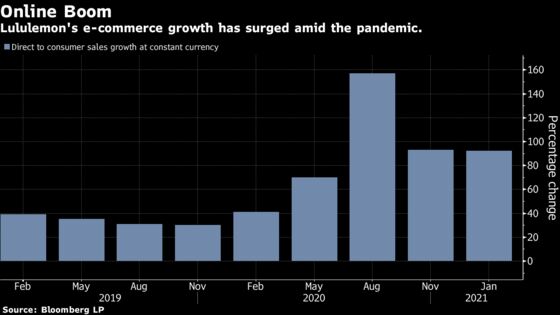 Lululemon shares fell 1.7% at 6:05 p.m. during extended trading in New York. The stock declined 8.9% this year through Tuesday's close.
For the company statement, click here.