Lufthansa Bids for Thomas Cook's German Airline Arm Condor
Deutsche Lufthansa AG is bidding for the German airline of tour operator Thomas Cook Group Plc and may expand the offer to include the group's entire portfolio of aircraft.
The deadline for non-binding offers for Condor, which is based near Frankfurt, expires Tuesday, Chief Executive Officer Carsten Spohr said at Lufthansa's annual shareholder meeting in Bonn, in remarks confirmed by a spokesman. Lufthansa participated with a bid that could be used to cover Thomas Cook's other airlines as well, he said.
Such a bid would likely run into objections from antitrust watchdogs, Spohr added, making it likely that Cook's fleet with more than 100 jets would have to be broken up should Lufthansa win the auction. Lufthansa's ambitions had already been curbed by the regulator after German rival Air Berlin failed in 2017, when the airline wasn't allowed to take over as many jets from its grounded rival as it wanted.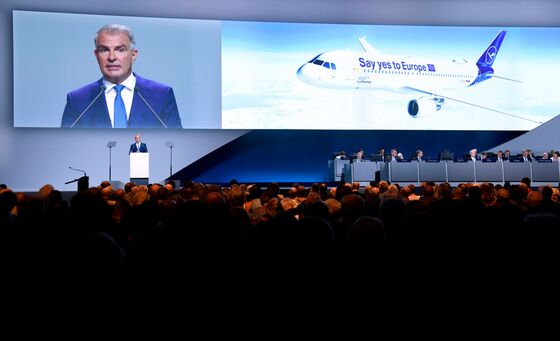 Spohr's comments, reported earlier by Reuters, lifted Thomas Cook's stock as much as 13 percent. The tour operator's 750 million euro ($840 million) bonds rose 5 cents on the euro to 64 cents on Tuesday, according to data compiled by Bloomberg, recovering from recent record lows.
U.K.-based Thomas Cook in February put its airlines on the block to focus on hotels after a disastrous summer season 2018 weakened its balance sheet. The tour operator already needed emergency funding under Chief Executive Officer Peter Fankhauser's predecessor, Harriet Green, in 2012, and has been cutting staff and stores as vacationers increasingly buy holiday packages online.
Three of Thomas Cook's bank lenders accepted losses to sell their stake in the existing credit facility, triggering a sell-off on the bonds last week, people familiar with the matter said. The travel operator is in talks with banks for an additional credit line that will reduce the risk of a liquidity shortage later this year.