Lucid's SPAC Investors Could Be Forced to Endure a Windfall
(Bloomberg) -- Small-time investors in Lucid Group Inc. are about to learn the hard way what it means to have too much of a good thing.
Lucid is an electric vehicle startup that debuted on the stock market last month by merging with a shell company that's already listed. The shell, a so-called SPAC, raised money in a 2020 public offering and sweetened the deal by giving investors warrants. Those entitle holders to buy more shares for five years at a fixed price of $11.50, no matter how high the stock goes. With Lucid hovering around $21.70, investors could almost double their money. 
There's a catch, though. If Lucid closes above $18 for 20 of 30 trading days -- a hurdle cleared as of this week -- it can demand that public holders use the warrants right now. They'd lose their risk-free chance to reap huge benefits from the EV revolution if things work out, and anyone who refuses would see their warrants effectively wiped out.
What's more, investors have to come up with fresh cash to exercise the warrants, with Lucid getting about half a billion dollars. Adding some insult to injury, insiders who hold their own series of private warrants wouldn't necessarily have to turn them in.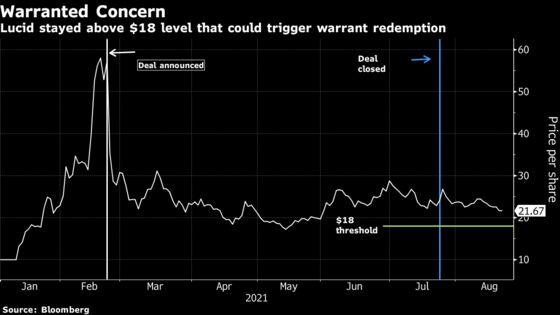 Lucid isn't obligated to do this, and there's some reason to hold off until at least next month. Some of its biggest stakeholders -- which include affiliates of BlackRock Inc., Fidelity Management and Research, Franklin Templeton and Neuberger Berman -- are banned from selling their shares before Sept. 1. As for the sponsors of the SPAC, which was Michael Klein's Churchill Capital Corp. IV, they were given 18 months before their warrants could be called for conversion.
A representative for New York-based Lucid declined to comment on the company's intentions, but investors can't say they weren't warned. It's all there in Lucid's merger prospectus, albeit deep in the fine print of the 300-page document, and such twists are common for SPACs, formally known as special-purpose acquisition companies.  
With about 41.4 million warrants outstanding, a conversion could put some pressure on Lucid's stock by swelling the number of publicly traded shares. Lucid is down about 8% this month, and the warrants are off around 11% to just above $10.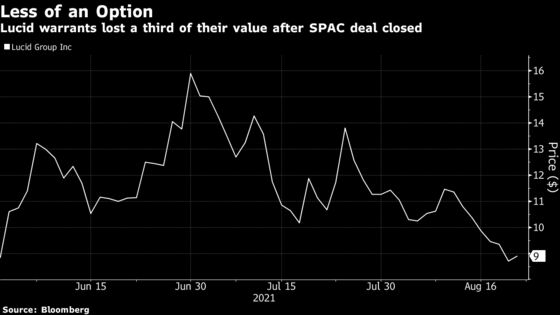 To be sure, the spread between the $11.50 warrant and the current share price would be a solid gain, but it's no help for individuals who don't have the cash to participate. Some may be able to borrow from their brokers; if not, Lucid could choose to offer a cashless option where holders could turn in their warrants for less than the full amount of shares they were promised.
The good news is that Lucid could raise about $500 million from the public warrants, and it has said proceeds would go toward building the young company -- potentially a plus for the stock. Assuming all the public and private warrants are exercised, Lucid could raise about $986.1 million.
And Lucid investors are faring better than investors at other EV startups that tried to strong-arm warrant holders. Nikola Corp. plunged when Bloomberg reported the possibility of a forced redemption. Lordstown Motors Corp. fell twice in December, after the company registered shares to retire its warrants and again when notices were sent to investors. Arrival SA shares dropped mid-June under similar circumstances. None has recovered, and Lordstown has warned it might go bankrupt.