Green Light for LSE-Refinitiv Deal Heralds Data-Driven Future
(Bloomberg) -- London Stock Exchange Group Plc cleared the last major hurdle to its purchase of Refinitiv, clinching a transformational deal for the 300-year-old London bourse.
The $27 billion transaction gained approval from European Union regulators Wednesday, giving it global scale as firms vie to meet surging demand for data and analytics in increasingly computerized financial markets. The news is also a boost for one of London's flagship financial companies as the post-Brexit era disrupts the sector's role on the world stage.
The combined company will be a trading powerhouse across fixed income, currencies, equities and derivatives. It will generate about 70% of revenues from data, up from LSE's current 40%, according to Bloomberg Intelligence.
The transaction has already helped spur consolidation among the finance industry's biggest data providers. In November, S&P Global Inc. agreed to buy IHS Markit Ltd. for about $39 billion. That same month, LSE's biggest European rival, Deutsche Boerse AG, bought a majority stake in Institutional Shareholder Services Inc., the corporate-governance adviser.
In a statement, LSE said the transaction still needed a "small number" of regulatory approvals and would be completed in the first quarter of this year. Its shares rose 2% in London Wednesday.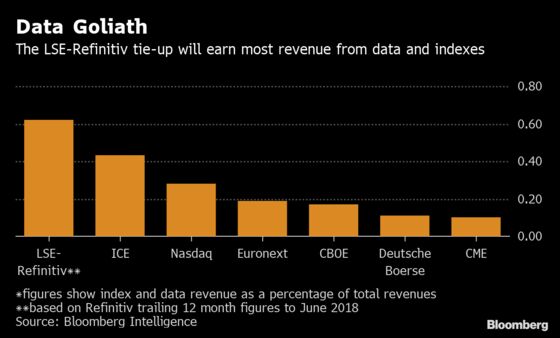 The Refinitiv deal has drawn plenty of scrutiny.
Regulators flagged potential issues with the combined company's market share in European government bond trading, trading and clearing of interest-rate derivatives, real-time data feeds and index licensing -- citing the possibility that LSE's historic rivals could be shut out from accessing Refinitiv's important information.
EU Competition Commissioner Margrethe Vestager had also expressed concerns about how some companies amass data.
Completion of the deal would mark a departure from a series of failed transactions involving major stock exchanges. In 2017, a tentative plan to combine LSE and Deutsche Boerse aimed to create a European champion that could compete with the biggest U.S. exchanges. It was ultimately vetoed by European regulators for diminishing competition.
Refinitiv serves over 40,000 institutions in 190 countries, informing clients including buy- and sell-side firms, governments and corporations on asset prices and trades. Its trading venues include a stake in Tradeweb and the FXall and Matching platforms, with average daily trading volume of over $400 billion in currencies and $500 billion in fixed income.
Pairing LSE's giant LCH clearinghouse with Tradeweb's trading platform will also boost the combined company. LCH's SwapClear cleared $1.1 quadrillion in interest rate derivatives last year.
It will compete with firms ranging from MSCI Inc. to Bloomberg LP. The parent company of Bloomberg News competes with Refinitiv to provide financial news, data and information.
LSE will sell Borsa Italiana, including its European government bond trading platform MTS, to Euronext NV and two Italian banks. The EU said this removes the overlap with Refinitiv's activities in electronic bond trading.
The LSE made "commitments that will ensure that the markets will remain open and competitive and the acquisition will not lead to higher prices or less choice and innovation," the European Commission said Wednesday.
Euronext said in a statement that the EU's Refinitiv approval "further improves the certainty" of its purchase of the Milan bourse "by satisfying one of the major conditions." It expects to complete the deal by June.
LSE has also pledged to continue offering over-the-counter interest-rate derivative clearing services by LCH Swapclear on an open access basis for 10 years. This will hold it to EU regulations on non-discriminatory and transparent clearing despite the U.K.'s move to quit the EU.
The company promises not to discriminate between Tradeweb and other trading venues and middleware providers. It will also provide access to LSE venue data, FTSE UK Equity Indices and WM/R FX Benchmarks to all existing and future downstream competitors.
It committed not to degrade the technology and to maintain an information barrier between LSE customers and some Refinitiv busineses to avoid a negative impact on other vendors. These pledges also last for 10 years.