Lowe's Turnaround Gets Boost by Reducing Gap With Home Depot
(Bloomberg) -- It was a cold winter for Lowe's Cos., but sales largely held up. And now, Chief Executive Officer Marvin Ellison said demand for home improvement goods is starting to heat up, one day after rival Home Depot Inc. reported results that fell short.
Fourth-quarter revenue of $15.6 billion was largely in line with estimates. A same-store sales gain of 1.7 percent was also just short of projections -- but Ellison said U.S. comparable sales surged 5.8 percent in January. That pace tops Home Depot's 4.1 percent gain for the month.
Investors may be looking at the results as promising when taking into account bad weather, including a historic cold snap in parts of the U.S. Scot Ciccarelli, an analyst at RBC Capital Markets said in a note to clients that the results "were fairly solid given the weather-related headwinds facing the industry."
Lowe's raised expectations for the first half of the year after executives said they've seen "strong" sales for outdoor categories from stores located in the southern U.S. that have already started their spring selling season. Spring, which spans the first and second quarters, is its biggest revenue generator of the year.
Ellison pointed to paint as proof that his focus on improving retail fundamentals like customer service and inventory management are working. After 10 straight quarters of trailing the overall company's sales growth, it outperformed.
The company had $1.6 billion in charges during the quarter, including of expenses tied to Ellison's decision to exit poor-performing businesses and close stores. There was also a $952 million goodwill impairment on its Canada division, stemming from the company's 2016 acquisition of Rona Inc.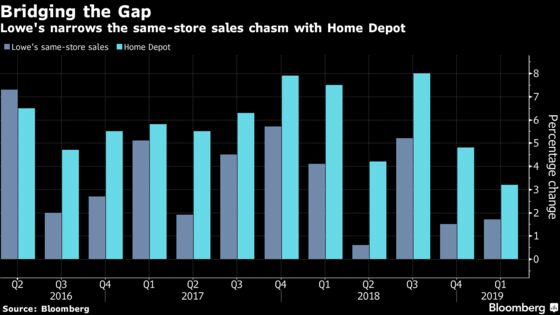 Lowe's shares rose as much as 4.7 percent -- the most in two months -- to $109.92 on Wednesday. The shares had gained 14 percent this year through Tuesday's close.
For more highlights of Lowe's financial results, click here.
For the company statement, click here.